Video Game Bits - 11/14/07
By Eli Green
November 14, 2007 - 23:59
Welcome back for another edition of Video Game Bits. As we said on Monday, this week is a big one for video game releases, as you probably already noticed from our long list of releases yesterday. Today, the list expands even further, and will continue to expand more tomorrow. So here is today's Video Game Bits.
Medal of Honor Heroes 2

now available

Electronic Arts announced the release of Medal of Honor Heroes 2 today for Wii and PSP. The game was designed from the ground up for both systems, and features 32-person online play for both Wii and PSP, support for the Wii Zapper and a unique Arcade Mode that plays like a rail-shooter, to simplify gameplay. The game begins on June 6, 1944 and players step into the boots of OSS Operative John Berg to infiltrate Normandy from behind enemy lines. Both versions of the game will have an all new single player campaign as well as online mutliplayer battles, where players can jump into any battle at any time against anyone. Medal of Honor Heroes 2 is available now for Wii for $49.99 USD and CAD and for PSP for $39.99 USD and CAD and is rated T for Teen.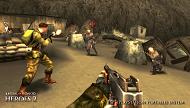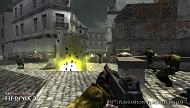 Hit the world's streets

Electronic Arts announced the release of Need for Speed ProStreet today. The game is the latest installment in EA's popular street racing franchise, and tak es the franchise to a whole new level, taking players for a spin on streets around the world, and making them race in multiple disciplines. Players will also be able to experience cars that have yet to hit the North American market including the 2009 Nissan GT-R, the 2008 Porsche 997 GT2 and the 2008 Mitsubishi Evo X.
Also, to celebrate the game's launch, EA is auctioning off a one-of-a-kind autographed Need for Speed ProStreet poster signed by over 40 celebrities, including Hayden Panettiere from NBC's Heroes . The proceeds from the auction will go to Save the Whales for their programs to educate children and adults about marine mammals and the protection of their environment. EA will be placing the poster up for auction on eBay this Friday, November 16 th at 9:00am PST.
To give you more information about the game, we've included an interview from X'07 with EA Games Label's Shirley Chu, who spoke to us about SKATE and Need for Speed ProStreet . Need for Speed ProStreet is available now for Playstation 2, Playstation 3, PSP, Nintendo DS, Wii, Xbox 360, PC and the mobile platform and is rated E10+ for Everyone 10 and up. Prices vary by system.

Last Updated: August 31, 2023 - 08:12