20th Century Boys: Volume 4
By Leroy Douresseaux
Aug 14, 2009 - 15:39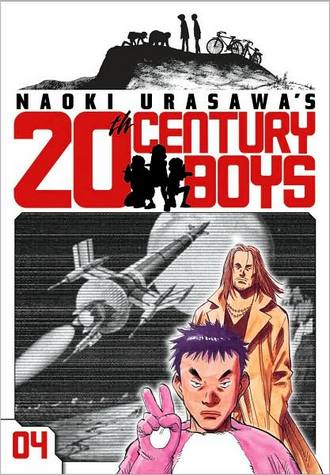 20th Century Boys Volume 4 cover image is courtesy of barnesandnoble.com.
Rated "T+" for "Older Teen"
Once upon a time, Kenji Endo was a boy. He and his friends came up with their own manga fantasy, which featured a plot to destroy the world, hatched by a group called the "League of Evil." Now, Kenji is a man. He runs the family business (a convenience store), but few people, including his big-mouth mother, think he's doing that well at it. He also takes care of Kanna, the infant daughter his sister abandoned before she disappeared. His life is a drag until he discovers that a bizarre religious cult has hatched a doomsday plot based on the League of Evil scenario. The cult's leader, a man called "Friend," is someone from Kenji's childhood.
Most of Naoki Urasawa's 20th Century Boys, Vol. 4 (entitled Love and Peace), focuses on Kenji's childhood friend, Ochiai Choji a.k.a. Otcho. Now, Otcho is known as Shogun, a former salary man turn ronin who rescues hapless fools from the vice and peril of the Bangkok underground. However, his past has come back to stalk him in the form of the FDP (the Friendship and Democracy Party); this is the Friend's political party, which has become quite powerful in Japan. Investigating an overdose case, Shogun discovers the existence of a powerful hallucinogen called "Rainbow Kid," created by the Friends and now the target of Shogun's anger.
THE LOWDOWN: Although this fourth volume of 20th Century Boys moves the overall narrative forward with more shocking and thrilling reveals, it is mostly the tale of a lone wolf, Shogun. We witness the birth of a warrior: from rich businessman to lost, broken man and from determined pupil to ass-kicking fighter. As with anything produced by manga-ka Naoki Urasawa, it's done in a way that is equally bracing and poignant.
POSSIBLE AUDIENCE: Fans of Naoki Urasawa's Monster will enjoy 20th Century Boys.
A
Last Updated: Jun 26, 2018 - 9:28