20th Century Boys: Volume 3
By Leroy Douresseaux
Jun 14, 2009 - 10:58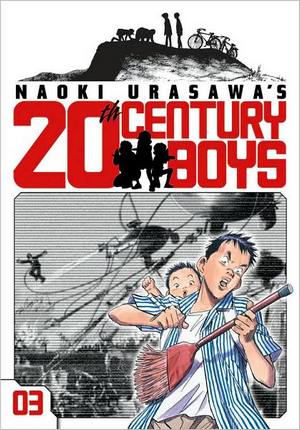 20th Century Boys Volume 3 cover image is courtesy of barnesandnoble.com.
Rated "T+" for "Older Teen"
When Kenji Endo was a boy, he and his friends came up with their own manga fantasy. It featured a plot to destroy the world, hatched by a group called the "League of Evil." Now, Kenji runs the family business (a convenience store), but few people, including his big-mouth mother, think he's doing that well at it. He also takes care of Kanna, the infant daughter his sister abandoned before she disappeared. His life is a drag until he discovers that a bizarre religious cult has hatched a doomsday plot based on the League of Evil scenario. The cult's leader, a man called "Friend," is someone from Kenji's childhood.
In Naoki Urasawa's 20th Century Boys, Vol. 3 (entitled Hero with a Guitar), Kenji learns that the diabolical plot, which he concocted as kid, is rapidly coming to fruition; now, he must struggle to remember all the details of the plot. Later, Kenji finally confronts the Friend, but struggles to discover his true identity. Kenji does learn the identity of his niece's father, but fails to discover a plot against the child. Meanwhile, in Bangkok, Thailand, a new player, a mysterious man named "Shogun," enters the story.
THE LOWDOWN: In this third volume of 20th Century Boys (the title of which is taken from a T.Rex jam), the narrative picks up its pace, not that the story needed to do so as an improvement. Creator Naoki Urasawa can make Kenji stocking groceries seem like a Hitchcock moment. However, Urasawa affirms his position as a master of the comic book form with two sequences in this volume: the meeting/confrontation of Kenji and Friend and also the riot at Kenji's store – truly bone chilling scenes.
POSSIBLE AUDIENCE: Fans of Naoki Urasawa's Monster will enjoy 20th Century Boys.
A+
Last Updated: Jun 26, 2018 - 9:28