20th Century Boys: Volume 2
By Leroy Douresseaux
Apr 18, 2009 - 9:52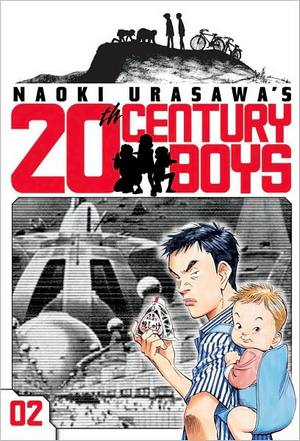 20th Century Boys Volume 2 cover image is courtesy of barnesandnoble.com.
Rated "T+" for "Older Teen"
Kenji Endo runs the family business (a convenience store), but few people, including his big-mouth mother, think he's doing that well at it. He takes care of Kanna, the infant daughter his sister abandoned before she disappeared. Kenji is also a failed rock musician, but now he may be the most important man in the world. Someone from his past is behind the rise of a bizarre religious cult planning that is millennial doom.
In Naoki Urasawa's 20th Century Boys, Vol. 2 (entitled The Prophet), Kenji and his pals are reunited with their old friend, Yukiji, the mightiest tomboy they ever knew. She remembers who created their club's enigmatic symbol, which is now being used by the mysterious cult leader, The Friend. Meanwhile, on the eve of his retirement, a highly-respected detective is close to revealing the Friends cult's secrets and its possible connection to two murder cases. Also, a homeless man, worshipped by his companions as a god, "Kamisama," possesses an uncanny ability to see future events, and he has a message for Kenji.
THE LOWDOWN: Naoki Urasawa once again plumbs man's heart of darkness. 20th Century Boys moves back forth in time across decades, and Urasawa has created another complex narrative that is all puzzle, part mystery thriller, part science fiction, and part psychological thriller. Genres and plot aside, what makes Urasawa manga such amazing reads is great character writing, and 20th Century Boys has, in Kenji, a superb everyman who makes the kind of hero for whom we root and whose cause we champion.
POSSIBLE AUDIENCE: Fans of Naoki's Monster or Alan Moore & Dave Gibbons' Watchmen will enjoy 20th Century Boys.
A
Last Updated: Jun 26, 2018 - 9:28