Matt Damon + Paul Greengrass Make The Bourne Ultimatum Great
By Leroy Douresseaux
August 12, 2007 - 14:48
In
The Bourne Identity
, he fought to answer the question, "Who am I?" In
The Bourne Supremacy
, he wanted to know, "Who killed my girlfriend," and he killed for what was done to him. In
The Bourne Ultimatum
,
Jason Bourne
(Matt Damon) remembers everything, and his journey takes him from Europe and North Africa to a trip home to New York City where all the answers will be found.
After he got his revenge for the killing of Marie, Bourne planned to disappear and forget the life that was stolen from him, but a front-page story in a London newspaper speculates about his existence. Bourne sets up a meeting with
Simon Ross
(Paddy Considine), the journalist who wrote the story, but that meeting makes Bourne a target again. The journalist does give him a lead on two top-secret black operations or black-ops programs,
Treadstone
and its successor
Blackbriar
, which may hold the key to Bourne's past. Bourne's reemergence also gets him marked for death by
Noah Vosen
(David Strathairn), the head of a new covert wing of the CIA and the director of Blackbriar. Bourne gains the trust of conflicted agent
Nicky Parsons
(Julia Stiles) and CIA operative/internal investigator and spy hunter
Pamela Landy
(Joan Allen), and with their help, he will have his day of reckoning.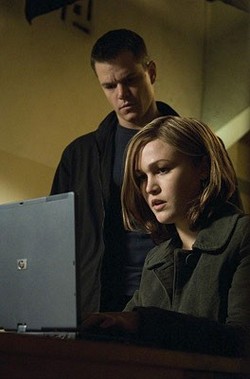 As close as Jason Bourne (Damon) and Nicky Parsons (Stiles) will get to intimacy.
Like his previous effort in the Jason Bourne series, The Bourne Supremacy, Oscar-nominated director Paul Greengrass (
United 93
) delivers mind blowing action, whiplash-paced fighting, and thoughtful plotting. Greengrass does this picture with equal parts humor and brutality, and makes it is as smart as it is stylish.
Matt Damon is Jason Bourne, and he leaves no doubt that it would be nearly impossible for anyone to take his place. His acting chops and screen charisma combined with his physical training for the role invents Bourne as a supernatural covert operative who can kick any ass, go anywhere, break into the most secure locations, and be invisible in a crowd.
The supporting cast may not be A-list actors in terms of star power, but they are A+ list in terms of screen acting. Added to Damon's work here, they put The Bourne Supremacy over the top. It's not just a great espionage thriller; it's the best thriller of the year and a great film. Whether you're a Bourne fan, or just a friend, mother, father, etc. going along with a fan, you'll go home impressed and happy.
A+
Shop Bourne at the Amazon
aStore
.
Last Updated: September 6, 2021 - 08:15