Gorgeous Emo Girl PVC Statue From Yamato Announced
By Hervé St-Louis
April 7, 2011 - 00:14
This is the blurb from Yamato's press release: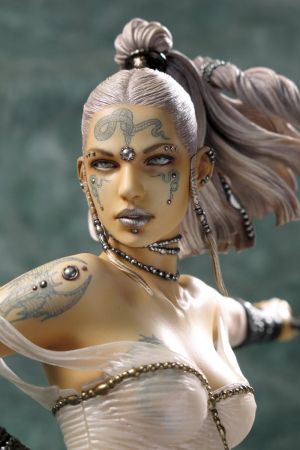 Yamato USA announced the next installation in its Fantasy Figure Gallery, Ritual. Inspired by the work of internationally acclaimed fantasy artist Luis Royo, this astounding 1/6 scale PVC statue from a sculpt by master Shin Tanabe (Black Tinkerbell) stands approximately 33cm ( 13") tall including a specially designed display base. From its dramatic pose to its life-like features to the free flow of its garments, every turn of this meticulously crafted piece will amaze with exceptional detail. Even more stunning is the intricate paint detail including multiple tattoos and 'see-through' application to capture the translucency of her sheer garments as they cling to her supple form. And what lies underneath… well, discover for yourself with the figure's specially designed cast-off feature. Limited to 4,000 pieces worldwide, this first edition of Yamato USA's Fantasy Figure Gallery: Ritual (Luis Royo) comes complete with numbered display base, art card, and certificate of authenticity is a collector's styled window box.
Apparently the statue can be "dressed up." One version of the pics we got had naked and exposed parts. I don't even collect statues like that and I think she's the most gorgeous statue I've ever seen. Now, why can't they ever send me review units of stuff like that?
Image Gallery:

Last Updated: September 6, 2021 - 08:15