Ramen Toy's Maverick Action Figure Possibly Infringes Copyrights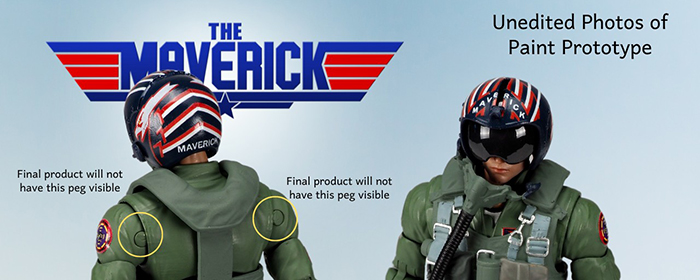 By Hervé St-Louis
March 29, 2023 - 07:25
Chinese-based boutique toy producer Ramen Toy has announced a soon for pre-order action figure based on the Pete Mitchell character from the
Top Gun
film franchise. Mitchell, also known as navy pilot Maverick, is a daredevil who likes to break rules. The original
Top Gun
movie from 1986 became an instant success with actor Tom Cruise. The subsequent 2022 sequel
Top Gun: Maverick
was another runaway success. This is highly problematic as the toys are clearly modelled after the franchise and the likeness of its popular actors. Ramen Toy even bills the line "The Maverick."
The figure sports a younger version of actor Tom Cruise, wearing an aviator suit, with overlays, and helmet. The figure is fully articulated. Other figures based on the same body model and tooling are planned for supporting characters such as Iceman and Goose. Ramen Toy has not obtained a license for its production of action figures patterned after
Top Gun
movie franchise characters.
Several types of intellectual property infringements
could be at play all at once here. First, there name The Maverick in regards to a combat fighter plane franchise is highly problematic. The term "Maverick" would be associated with and close to the
Top Gun
franchise, being the title character's moniker, but also the name of the film sequel. Possible copyrights infringements by Ramen Toy are all well expressed and easy to prove. The action figure may have been subtly altered to not be straight copies of the
Top Gun
features, but they are more than derivative works. They clearly copy
Top Gun
and are regarded as adaptations of
Top Gun
features in action figure toys. Then, there design mark elements such as Maverick's helmet which is a clear reproduction of the design of Mitchell's in the movie franchise. There is also the use of actor Tom Cruise's likeness which is a problematic. The figure looks very much like Tom Cruise, albeit a younger version. Using a living person's likeness in a product without his authorization and not as a parody is problematic.
Responding to users on a chat from audiences and live streamed comments from hosts of the
A Toy Kinda Mood
on YouTube, Ramen Toy's founder (possibly a man named Noel Lee SK) claimed that licensing material was difficult while acknowledging that the figures were clearly unauthorized use of Paramount Pictures' intellectual property. Some of the claims were that fandom should matter and should have some form of right to do this. Other users on the chat defended the move, saying that previous toy manufacturer Hot Toys had done similar
Top Gun
-based action figures in the past without obtaining a license from Paramount Pictures, and that thus, there is a precedent for Ramen Toy's actions.
Unfortunately, intellectual property does not work this way. Intellectual property owners have the responsibility to defend their intellectual property. The usage of their intellectual property in adaptations or derivative works is something they have the exclusive right to decide and govern. No one can use their intellectual property without the authorization of its owners, whether they are based in North America or China.
Fans of Ramen Toy's Maverick may feel "slighted" or that this situation is unfair: that fans should have a right to create and market derivative works from existing franchises. Well, fans such as Ramen Toy have no rights to the intellectual property of others. They clearly have no right to profit commercially from an existing property without licensing it. While Paramount Pictures may failed to act against Hot Toys years ago (highly doubtful), they will surely act now. It is their property and Ramen Toy should seek a license from them.

Ramen Toy also has a history of proposing projects based on intellectual property it has no license to. It would be very easy for Paramount Pictures to demonstrate that Ramen Toy understood what it was doing and went on regardless. Fans may find intellectual property regulations annoying, but they need to understand that creators and producers have the right to determine how their creations will be exploited.
Ramen Toys cannot claim that they are fans. That is not a defence. They cannot claim that because Hot Toys did it years ago, that they should be able to also infringe on Paramount Pictures' intellectual property. That is neither a legitimate defence in courts. Ramen Toy cannot claim that it is unaware of their intellectual property infringements. All evidence thus far, clearly demonstrate that they are aware of intellectual property, and they have repeatedly demonstrated that they are willing to infringe on others' intellectual property.

Fans interested in this project should probably avoid pre-ordering this toy and others in the line as they could never ship to them once Paramount Pictures and its lawyers get involved. It's a nice project, but it's using other people's property without authorization.
Following this article, Paramount folks and Ramen Toy have begun licensing negotiations.
Last Updated: August 31, 2023 - 08:12