Top Shelf to Publish "God is Disappointed in You"
By The Editor
May 1, 2013 - 16:20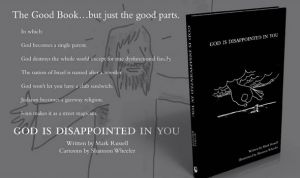 God is Disappointed in You promotional ad image
Portland writer Mark Russell and award-winning cartoonist Shannon Wheeler have created a book that must be seen to be believed! GOD IS DISAPPOINTED IN YOU is the "condensed" version of the Bible you never knew you needed -- hilariously modern, but surprisingly authentic -- published as a deluxe Bible-style hardcover with all the trimmings! We can't wait to get this very funny book into people's hands.
GOD IS DISAPPOINTED IN YOU by Mark Russell & Shannon Wheeler (JULY 2013)
Audience: Mature readers (16+)
public info: http://www.topshelfcomix.com/catalog/god-is-disappointed-in-you/765
A cynical and witty condensed version of the Bible, frequently hilarious, often shocking, but always faithful. With illustrations and gags by New Yorker cartoonist Shannon Wheeler. Presented as a deluxe textured hardcover, printed in two colors, with gilded edges & satin ribbon!
http://www.topshelfcomix.com
http://twitter.com/topshelfcomix
http://facebook.com/topshelfcomix
Last Updated: Jun 26, 2018 - 9:28