Top Shelf Announces "Monster on the Hill"
By The Editor
May 1, 2013 - 16:12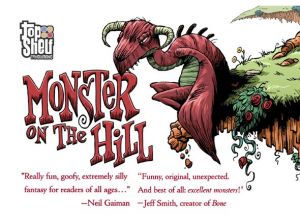 Monster on the Hill promotional art
Rob Harrell is a veteran of newspaper comic strips, but his first graphic novel is a quantum leap forward. MONSTER ON THE HILL is an irresistible fantasy adventure/comedy that brings a whole world to life in gorgeous color. The buzz is already fantastic, with praise rolling in from Neil Gaiman, Jeff Smith, Richard Thompson, and The AV Club's Noel Murray -- so we expect this to be a real hit, and a vibrant new addition to the Top Shelf Kids Club!
MONSTER ON THE HILL by Rob Harrell (JULY 2013)
Audience: All ages (10+)
Public info: http://www.topshelfcomix.com/catalog/monster-on-the-hill/732
A new Top Shelf Kids Club book!
In 1860s England, every town has its own monster -- terrifying, but a great source of local pride, not to mention tourism. But one town's monster isn't quite as... impressive. Can the morose Rayburn get a monstrous makeover and become a proper horror? It's up to the eccentric Dr. Wilkie and plucky street urchin Timothy to get him up to snuff, before a greater threat turns the whole town to kindling.
http://www.topshelfcomix.com
http://twitter.com/topshelfcomix
http://facebook.com/topshelfcomix

Last Updated: Jun 26, 2018 - 9:28