Tokyo Ghoul: re Volume 12 manga review
By Leroy Douresseaux
August 23, 2019 - 23:11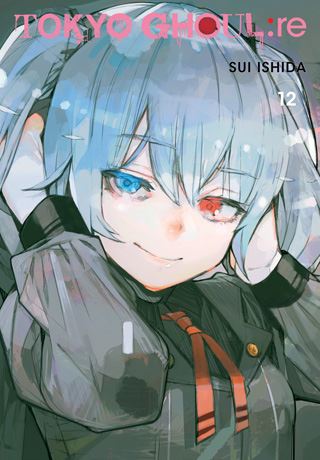 Tokyo Ghoul: re Graphic Novel Volume 12 cover image
Ghouls
look like humans and live among us, but Ghouls crave human flesh. The
Commission of Counter Ghouls
(CCG) is the only organization in the world fighting and exterminating Ghouls and investigating Ghoul-related crimes.
Haise Sasaki
was in charge of an unruly CCG squad, "
Quinx Squad
" (or "
Qs Squad
"), but among the secrets of his forgotten past is the truth that he is
Ken Kaneki
, a half-human and half-Ghoul.
As
Tokyo Ghoul: re

, Vol. 12
(Chapters 123 to 132) opens, the new CCG leader continues his bid to eradicate Ghouls from Tokyo with his the new Qs Squad, "
the Oggai
," a kind of killer youth. Ghouls are forced underground, as more than eighty percent of the population is wiped out.
In good news,
Takeomi Kuroiwa
and
Yoriko Kosaka
, two members of the CCG, marry. In bad news, their honeymoon is interrupted by a stunning turn of events. Meanwhile, Ken Kaneki and
Touka Kirishima
bond in their own unique way. Plus,
Toru Mutsuki
, a colleague of Kaneki's when he was the CCG's Haise Sasaki, cannot stop being obsessed by Kaneki and makes him an offer that could be nothing more than a trap.
[This volume includes bonus four-panel comics.]
THE LOWDOWN:
The Tokyo Ghoul: re manga is the follow-up to
Tokyo Ghoul
, and it is trying to be as good as it predecessor. I loved Tokyo Ghoul from the first volume, but I have struggled to warm to Tokyo Ghoul: re.
Tokyo Ghoul: re Graphic Novel Volume 12
is a volume full of shocking and stunning reveals and plot twists. No, I will not provide spoilers. Still, I will tease you, dear readers, and say that the Kuroiwa-Kosaka marriage isn't the only big family-related news in Vol. 12. I think creator
Sui Ishida
's best move in this sequel series is putting Ghouls on the edge of extinction and turning the CCG into a murderous organization. That is an opening for more internal conflict in the respective groups and organizations And so far, the internal conflict is damn good.
I READS YOU RECOMMENDS:
Fans of Tokyo Ghoul will want to dine on VIZ Signature's Tokyo Ghoul: re.
A
8.5 out of 10
Rating: 8.5 /10
Last Updated: May 19, 2020 - 12:25