Tokyo Ghoul: re Volume 3 manga review
By Leroy Douresseaux
Apr 4, 2018 - 22:10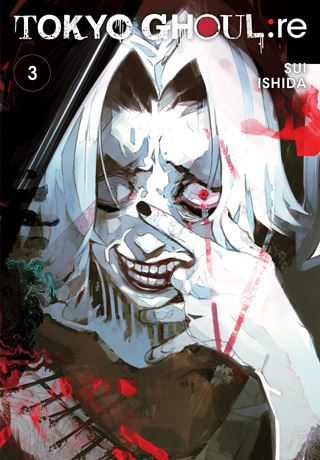 Tokyo Ghoul: re Graphic Novel Volume 3 cover image
Rated "T+" for "Older Teen"
Ghouls
look like humans and live among us, but Ghouls crave human flesh. The
Commission of Counter Ghouls
(CCG) is the only organization in the world fighting and exterminating Ghouls and investigating Ghoul-related crimes.
Haise Sasaki
is in charge on an unruly CCG squad, "
Quinx Squad
" (or "Qs Squad"), but his forgotten past hides dark secrets.
As
Tokyo Ghoul: re

, Vol. 3
(Chapters 21 to 31) opens, the CCG has two missions. First, the organization will make a large-scale transfer of "
Quinque
" steel. Quinque is a weapon made from the Ghoul's bio-weapon (their organ of "predation"), "
Kagune
." The other mission is to invade an auction held by the notorious Ghoul,
The Madam
. In a pitched battle, Sasaki faces his past.
[This volume includes the side story, "Joker."]
THE LOWDOWN:
Fans know that the Tokyo Ghoul: re manga is the sequel to the previous series, Tokyo Ghoul. Both series are the creations of Sui Ishida, who gives each series it's own tone, unique from the other series.
Tokyo Ghoul: re Graphic Novel Volume 3
is my favorite volume of this new series, so far. Why? Haise Sasaki's past comes roaring back in a battle of blood and gore. I have to be honest. I have been waiting for that, and I imagine, so have other Tokyo Ghoul fans.
I READS YOU RECOMMENDS:
Fans of Tokyo Ghoul will want to devour VIZ Signature's
Tokyo Ghoul: re
.
A
8 out of 10
Rating: 8 /10
Support this writer on Patreon
Last Updated: Jun 26, 2018 - 9:28