Tokyo Ghoul: re Volume 2 manga review
By Leroy Douresseaux
Jan 2, 2018 - 23:46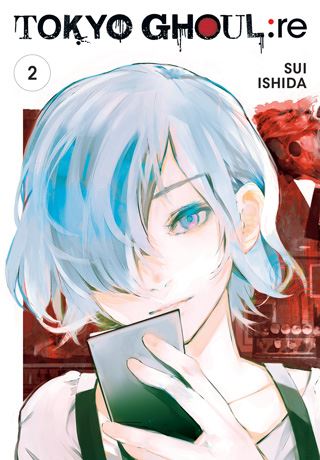 Tokyo Ghoul: re Volume 2 cover image
Rated "T+" for "Older Teen"
Ghouls
look like humans and live among us, but Ghouls crave human flesh. The
Commission of Counter Ghouls
(
CCG
) is the only organization in the world fighting and exterminating Ghouls and investigating Ghoul-related crimes.
Haise Sasaki
is in charge on an unruly CCG squad, "
Quinx Squad
" (or "
Qs Squad
") but his forgotten past hides dark secrets.
Tokyo Ghoul: re

, Vol. 2
(Chapters 10 to 20) opens with Haise trying to get his unruly bunch under control. Serious anti-ghoul missions are about to begin. One requires Qs Squad to don costumes, but another is more dangerous. There is a powerful Ghoul known as "
The Nutcracker
," who is particular about whom he eats and what he eats. However, his finicky appetite may also be related to the fact that he obtains humans for "
The Madame
," a Ghoul known for her notorious auctions. Now, one member of the Qs Squad is about to infiltrate The Madame's auctions ahead of "Operation Auction Sweep."
THE LOWDOWN:
The Tokyo Ghoul: re manga is the sequel to the previous series, Tokyo Ghoul. Both series are the creations of Sui Ishida, who gives each series it own tone.
Tokyo Ghoul: re Graphic Novel Volume 2
is like the first volume. It focuses on the inner goings-on of the CCG, specifically Sasaki's Qs Squad. It can be an odd read because, as Tokyo Ghoul fans know, Haise Sasaki was the half-human/half-Ghoul, Ken Kaneki, of the previous series.
I have to admit that I prefer Tokyo Ghoul because Ishida took readers deep into the world of the Ghouls. I prefer the Ghouls, and I do not necessarily see the CCG as protagonists. However, I must say that this second volume is revealing interesting sides to the CCG, and it may take time for the CCG characters to be as interesting in this series as the Ghouls were in the previous series.
I READS YOU RECOMMENDS:
Fans of Tokyo Ghoul will want to devour VIZ Signature's
Tokyo Ghoul: re
.
B+
7 out of 10
Rating: 7 /10
Support this writer on Patreon
Last Updated: Jun 26, 2018 - 9:28