Tokyo Ghoul: re Volume 1 manga review

By Leroy Douresseaux
Oct 17, 2017 - 22:10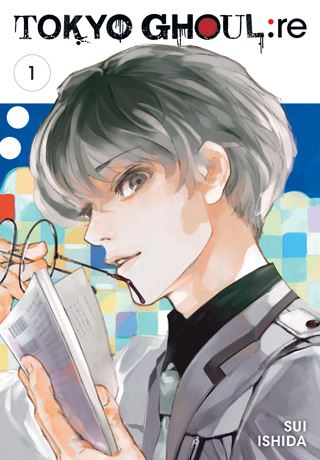 Tokyo Ghoul: re Volume 1 cover image
Rated "T+" for "Older Teen"
Tokyo Ghoul: re
is the sequel to the manga,
Tokyo Ghoul
; both are the creation of writer-artist,
Sui Ishida
. Both series take place in a world where there are Ghouls. They look like humans and live among us, but Ghouls crave human flesh. The
Commission of Counter Ghouls
(
CCG
) is the only organization in the world fighting and exterminating Ghouls and investigating Ghoul-related crimes.
Tokyo Ghoul: re

, Vol. 1
(Chapters 1 to 9) introduces the CCG's "
Quinx Squad
." This is 22-year-old
Haise Sasaki
's squad; he is a Rank 1 investigator.
Kuki Urie
, 19, is the squad leader, and, jealous of Sasaki, he wants to do better than him.
Toru Mutsuki
, a 19 young woman, is close to Sasaki.
Ginshi Shirazu
, 19, is the oddball. When they join the hunt for the wily Ghoul, known as "
the Torso
," Quinx Squad does not realize that the case will reveal something shocking about one of its members.
THE LOWDOWN:
I described reading the Tokyo Ghoul manga as like entering an actual world of mystery. Tokyo Ghoul: re shifts into a more familiar world; you might say that it is something like a police procedural.
Tokyo Ghoul: re Volume 1
focuses on the CCG. The Ghoul investigators do not interest me as much as the Ghouls themselves do. I find the early chapters of this opening graphic novel to be dry, even a bit dull. By the second half of this volume, the narrative gets a big bump when Sui Ishida puts his characters on the Ghoul hunt. Honestly, Tokyo Ghoul: re will be at its best the more Ghouls are on the pages being Ghoul-ish. I do not think the investigators will be as interesting... unless there are some shocking developments...
I READS YOU RECOMMENDS:
Fans of Tokyo Ghoul will want to devour VIZ Signature's
Tokyo Ghoul: re
.
A-
7.5 out of 10
Rating: 7.5 /10
Support this writer on Patreon
Last Updated: Jun 26, 2018 - 9:28