Tokyo Ghoul: Volume 14 manga review
By Leroy Douresseaux
Oct 12, 2017 - 22:59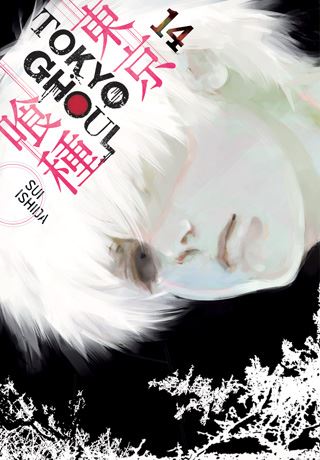 Tokyo Ghoul Volume 14 cover image
Rated "T+" for "Older Teen"
Ken Kaneki
was a shy, ordinary college student. He studied Japanese literature at Kamii University. This book-loving freshman was excited to go on a date with the beautiful Rize Kamishiro, but he did not know that she was a
Ghoul
. They look like humans and live among us, but Ghouls crave human flesh. Soon, Kaneki found himself a hybrid, trapped between the worlds of Ghouls and humans.
Tokyo Ghoul

, Vol. 14
(Chapters 133 to 142) opens as the forces of the
Commission of Counter Ghouls
(CCG) makes its biggest move against Ghouls. Kaneki and
Arima
, the fiercest fighter of the CCG, finally face off, and Arima has the power to destroy Kaneki.
THE LOWDOWN:
As I have written before, visiting the Tokyo Ghoul manga is like entering an actual world of mystery. Of late, reading the series is like entering the world of an action movie. It is time for those proverbial final battles.
Tokyo Ghoul Volume 14
is the final volume of the current series. Tokyo Ghoul: re is about to drop into readers' laps. Make sure it does not bite you. In the meantime, the end comes with many bangs. I prefer the mystery and suspense, so I would not call this one of the better volumes. Still, it wraps up things to prepare for the next stage of the world of Tokyo Ghoul. This was a series about a character, Ken Kaneki, trying to navigate two worlds, neither of which he seemed to fit completely. That is indeed something upon which to build.
I READS YOU RECOMMENDS:
Fans looking for a different kind of dark fantasy graphic novel series will want to devour VIZ Signature's Tokyo Ghoul – from the beginning.
B+
7 out of 10
Rating: 7 /10
Support this writer on Patreon
Last Updated: Jun 26, 2018 - 9:28