Tokyo Ghoul: Volume 13 manga review
By Leroy Douresseaux
June 26, 2017 - 23:05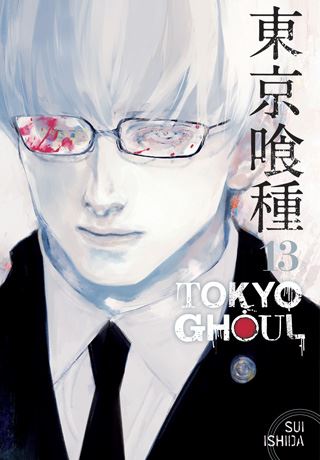 Tokyo Ghoul Volume 13 cover image
Rated "T+" for "Older Teen"
Ken Kaneki
was a shy, ordinary college student. He studied Japanese literature at Kamii University. This book-loving freshman was excited to go on a date with the beautiful Rize Kamishiro, but he did not know that she was a Ghoul. They look like humans and live among us, but Ghouls crave human flesh. Soon, Kaneki found himself a hybrid, trapped between the worlds of Ghouls and humans.
Tokyo Ghoul

, Vol. 13
(Chapters 122 to 132) opens with the origin story of
Juzo Suzuya
, Rank 2 Investigator in the
Commission of Counter Ghouls
(CCG). Once, he was the pet of the cruel Ghoul, "
Big Madame
," but now, he wants payback on all Ghouls. Thus, the CCG Investigators of the 20th Ward launch an all-out assault to find the Ghoul known as the "
One-Eye Owl
." However, that means an attack on the cafe,
Anteiku
, the sanctuary of Kaneki and his friends. During the full-fledged battle, Kaneki decides that it is time to protect his own.
THE LOWDOWN:
As I have written before, visiting the Tokyo Ghoul manga is like entering an actual world of mystery. Sometimes, that world certainly seems real to me, and I have to be in on the violence and death. Still, I get to enjoy some really good characters.
Tokyo Ghoul Volume 13
focuses on the bonds between the characters on all sides of the narrative of this horror, drama, melodrama, dark fantasy manga. Creator Sui Ishida heightens the drama in this particular graphic novel in the series by focusing on the struggles and the fear of death that the CCG men and women face before going into battle against powerful Ghouls. I think that one of the elements that make this manga work is that the humans characters could be the stars in an engaging manga that told the story entirely from their point of view.
I READS YOU RECOMMENDS:
Fans looking for a different kind of dark fantasy graphic novel series will want to devour VIZ Signature's
Tokyo Ghoul
.
A
9 out of 10
Rating: 9 /10
Last Updated: September 6, 2021 - 08:15