Tokyo Ghoul: Volume 11 manga review
By Leroy Douresseaux
Mar 2, 2017 - 9:30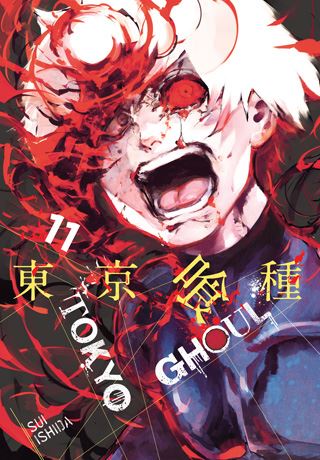 Tokyo Ghoul Volume 11 cover image
Rated "T+" for "Older Teen"
A shy, ordinary college student,
Ken Kaneki
studies Japanese literature at Kamii University. This book-loving freshman is excited to go on a date with the beautiful Rize Kamishiro, but he does not know that she is a
Ghoul
. They look like humans and live among us, but Ghouls crave human flesh. Soon, Kaneki finds himself a hybrid, trapped between the worlds of Ghouls and humans.
Tokyo Ghoul

, Vol. 11
(Chapters 101 to 111) opens in the underground facility of
Dr. Akihiro Kano
, the man who performed the surgery that changed Kaneki. Now, Ghouls and the
Commission of Counter Ghoul
(CCG) investigators clash, and Kaneki finds himself locked in mortal combat against
Special Glass Ghoul Investigator Yukinori Shinohara
. And Kaneki has changed into the
Kakuja
!
THE LOWDOWN:
Visiting the
Tokyo Ghoul
manga is like entering an actual world of mystery. The world of the Ghouls is so alluring that I am afraid of its threats, but I am also intrigued.
Tokyo Ghoul Volume 11
reveals the extreme violence side of the narrative's setting and plot. This time around, this graphic novel also gleefully shows off its battle manga side. I won't say dark side, at least say it only in the context of the Ghouls. Creator
Sui Ishida
is telling his readers that no side in this narrative is above physical violence and psychological warfare. That intense manga is hard to ignore, so get on board the meat train.
I READS YOU RECOMMENDS:
Fans looking for a different kind of dark fantasy graphic novel series will want to taste VIZ Signature's
Tokyo Ghoul
.
A+
Rating: A+ /10
Support this writer on Patreon
Last Updated: Jun 26, 2018 - 9:28