Tokyo Ghoul: Volume 10 manga review
By Leroy Douresseaux
Dec 24, 2016 - 11:38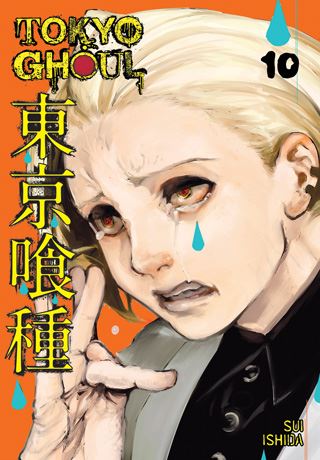 Tokyo Ghoul Volume 10 cover image
Rated "T+" for "Older Teen"
Ken Kanecki is a shy, ordinary college student who studies Japanese literature at Kamii University. This book-loving freshman is excited to go on a date with the beautiful Rize Kamishiro, but he does not know that she is a Ghoul. They look like humans and live among us, but Ghouls crave human flesh. Soon, Kaneki finds himself a hybrid, trapped between the worlds of Ghouls and humans.
Tokyo Ghoul, Vol. 10 (Chapters 90 to 100) opens at the 20th Ward CCG Branch, where Ghoul investigators try to unravel the mystery of two Ghouls that may use the word "rabbit" in their names. Special Investigator Yukinori Shinohara is getting close to the discovering everything connected to Kanecki, including his confrontation with the ghoul known as "the Binge Eater."
Meanwhile, Kanecki and his Anteiku friends believe that they have tracked down Dr. Akihiro Kano, the man who inserted Ghoul organs into Kanecki. Kano's new "base of operations" is a mansion that once belonged to a family of four – a father, a mother, and their twin daughters. Of course, everything that Kanecki and friends expect turns out not as expected.
THE LOWDOWN: I was visiting a local Wal-Mart, and while in the part of the store that gathers everything home entertainment and electronics, I found DVD box sets for the anime based on the Tokyo Ghoul manga. I was tempted to make a purchase because I love the manga.
Tokyo Ghoul Volume 10 is one of the best volumes in the series, which is saying a lot considering that just about every volume that I have read is top-notch. It is funny that I was not sure where Tokyo Ghoul was going after I read the first volume; it would prove capable of going anywhere the creator's imagination took it.
Creator Sui Ishida proves that the Ghouls are not the "walking dead." The Ghouls are a living, breathing, and evolving. I think they are closer to the mutants of Marvel's X-Men than they are to traditional monsters. That is what makes Tokyo Ghoul fascinating: the villains are not really the villains, and the good guys ain't so grand.
I READS YOU RECOMMENDS: Fans looking for a different kind of dark fantasy graphic novel series will want to taste VIZ Signature's Tokyo Ghoul.
A+
Rating: A+ /10
Support this writer on Patreon
Last Updated: Jun 26, 2018 - 9:28