Tokyo Ghoul: Volume 9 manga review
By Leroy Douresseaux
Nov 18, 2016 - 20:33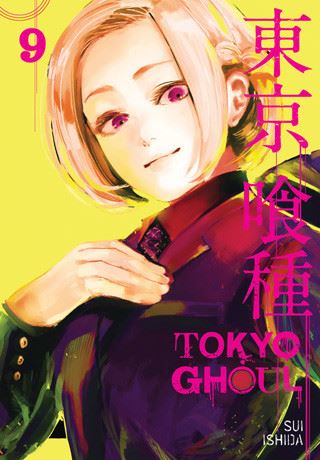 Tokyo Ghoul Volume 9 cover image
Rated "T+" for "Older Teen"

Ken Kanecki
is a shy, ordinary college student who attends
Kamii University
, where he studies Japanese literature. This book-loving freshman is excited to go on a date with the beautiful
Rize Kamishiro
, but he does not know that she is a
Ghoul
. They look like humans and live among us, but Ghouls crave human flesh. Soon, Kaneki finds himself a hybrid, trapped between the worlds of Ghouls and humans.
Tokyo Ghoul

, Vol. 9
(Chapters 80 to 89) opens six months after the
CCG
, the local Ghoul-investigating law enforcement agency, launched a successful assault on Ghoul organization,
Aogiri Tree
's 11th ward hideout. The CCG continues its investigation of two Ghouls, the Binge Eater and the Gourmet (
Shu Tsukiyama
, who is obsessed with Kanecki). Meanwhile, Kanecki continues to search for
Dr. Kano
, the physician who implanted Ghoul organs into his body. Where is the good doctor?
THE LOWDOWN:
The
Tokyo Ghoul
manga continues to expand its internal mythology, revealing just how complex a concept it is. Beyond the fighting, there is as much political intrigue as there is a taste for succulent human flesh.
Tokyo Ghoul Volume 9
mostly eschews the battle manga fighting that filled the previous volume. Creator
Sui Ishida
gives the narrative a jarring turn with Ken Kanecki's search for Dr. Kano and the mysterious
Madame A
. I am intrigued, and I think regular readers of this manga will be delighted because of this thickening plot. Keep reading, or, if you are new, start now.
I READS YOU RECOMMENDS:
Fans looking for a different kind of dark fantasy comic will want to taste VIZ Signature's
Tokyo Ghoul
.
A
Rating: A /10
Support this writer on Patreon
Last Updated: Jun 26, 2018 - 9:28