Tokyo Ghoul: Volume 5 manga review
By Leroy Douresseaux
February 16, 2016 - 08:45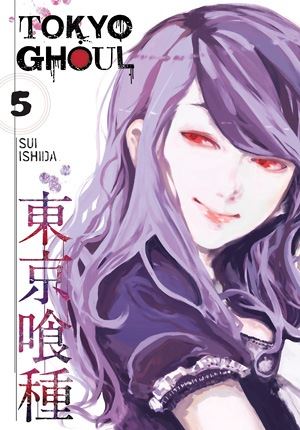 Tokyo Ghouls Volume 5 cover image
Rated "T+" for "Older Teen"
Eighteen-year-old Ken Kaneki was a college student who attended Kamii University, where he studied in the Department of Literature, specializing in Japanese literature. The shy, book-loving freshman was excited to go on a date with the beautiful Rize Kamishiro, but he didn't know that she was a Ghoul. They look like humans and live among us, but Ghouls crave human flesh. Kaneki found himself a hybrid, trapped between the worlds of Ghouls and humans.
As Tokyo Ghoul, Vol. 5 (Chapters 40 to 48) opens, Kaneki gets another "invitation" from Shu Tsukiyama, the powerful ghoul known as "The Gourmet." Tsukiyama has kidnapped Kaneki's friend, Kimi Nishino, and he is threatening to harm her if Kaneki does not meet him at an isolated location. Kimi's boyfriend, Nishiki Nishio, a ghoul, insists on tagging along. The two, however, will need some help as they discover just how powerful Tsukiyama is and just how much he hungers for Kaneki.
Also, the CCG, the human organization that defends humans from ghouls increases its activities and moves more agents into Tokyo wards that are suffering increased ghoul activity. With ghouls also calling in reinforcements, the stakes are higher than ever.
[This volume contains a bonus "side story," entitled "Rize.]
THE LOWDOWN: After reading the first volume of the Tokyo Ghoul manga, I was not sure how much I would like this series. As the narrative advances and more of the secrets of this world are revealed, I find myself really liking it and eagerly awaiting each new volume.
Tokyo Ghoul Volume 5 offers a glimpse at the last six months in the life of Rize before her violent encounter with Kaneki (as seen in Vol. 1). That only serves to deepen the mystery about both her and Kaneki, making the story more intriguing. This volume also reveals the powers and abilities of certain ghouls in a way that may be unexpected by readers. The human authorities also show a surprising side. All in all, Tokyo Ghoul seems to be one of those manga that will appear to be stronger with each book collection of chapters. That is a boon for graphic novel readers.
POSSIBLE AUDIENCE: Fans looking for a different kind of zombie comic will want to taste VIZ Signature's Tokyo Ghoul.
Rating: A /10
Last Updated: January 24, 2022 - 11:00