Tokyo Ghoul: Volume 4 manga review
By Leroy Douresseaux
December 16, 2015 - 22:28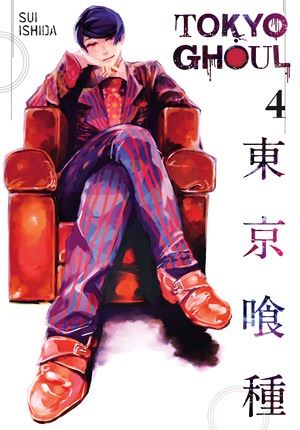 Tokyo Ghoul Volume 4 cover image
Rated "T+" for "Older Teen"
Eighteen-year-old
Ken Kaneki
is a college student who attends Kamii University, where he studies in the Department of Literature, specializing in Japanese literature. The shy, book-loving freshman is excited to go on a date with the beautiful
Rize Kamishiro
, but he doesn't know that she is a
Ghoul
. They look like humans and live among us, but they crave human flesh. Soon, Kaneki will find himself a hybrid, trapped between the worlds of Ghouls and humans.
As
Tokyo Ghoul

, Vol. 4
(Chapters 30 to 39) opens, Kaneki is learning still more about the world of the Ghouls. Most shocking is that he will discover that not only must he learn more about Rize, but he must also learn more about the accident that lead to him being a half-Ghoul, half-human hybrid. Kaneki also discovers that a debonair Ghoul,
Shu Tsukiyama
(a.k.a. "The Gourmet"), has taken an interest in him. It seems, however, that Kaneki does not truly understand the nature of that interest.
THE LOWDOWN:
I had not read the
Tokyo Ghoul
manga since the first volume. My VIZ Media PR rep sent me a copy of the fourth volume. I was intrigued by the series when I first heard of it, and now, I find that even after missing two volumes, the series still hugely interests me.
Tokyo Ghoul Volume 4
delves deeply into the world of the Ghoul, and reveals a complex system of societies and cliques. It seems that Ghouls connive and kill each other as much as humans do (Black on Black crime!). Creator
Sui Ishida
draws his readers into Ghoul-World, but does not ignore humans. He makes every nook and cranny in
Tokyo Ghoul
an intriguing place, a world of mystery and the unknown that readers will want to know.
Tokyo Ghoul
also has a... ahem... Ghoulish subtext. It seems that everyone really wants a piece of Ken Kaneki. I like the idea of a lead character that seems like a sacrificial lamb or at least, a main course.
POSSIBLE AUDIENCE:
Fans of horror drama will want to travel to VIZ Signature's
Tokyo Ghoul
.
Rating: A /10
Last Updated: August 31, 2023 - 08:12