Tokyo Ghoul: Volume 1 manga review

By Leroy Douresseaux
Jun 15, 2015 - 12:56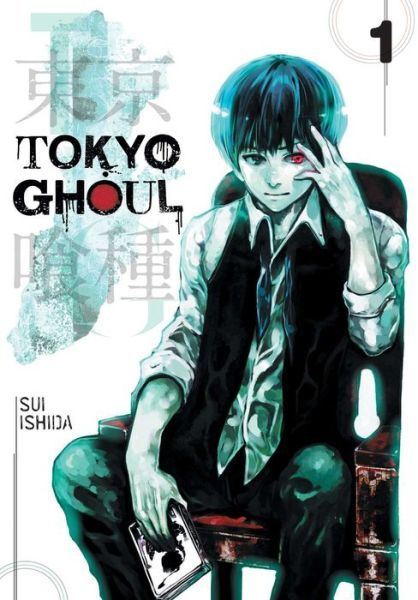 Tokyo Ghoul Volume 1 cover image is courtesy of barnesandnoble.com.
Rated "T+" for "Older Teen"
The latest addition to VIZ Media's VIZ Signature line of manga is
Tokyo Ghoul
, a horror drama from creator
Sui Ishida
. The series tells the story of a young man who, through no fault of his own, becomes a creature that must eat dead human flesh to survive.
Tokyo Ghoul

, Vol. 1
(Chapters 1 to 9) introduces shy college freshman, 18-year-old
Ken Kaneki
. He attends
Kamii University
where he studies in the Department of Literature, specializing in Japanese literature. His best pal,
Hide Nagachika
, wants Kaneki to read less and date more, so Kaneki is thrilled to go on a date with the beautiful
Rize
.
However, there are
Ghouls
that live among us. They look the same as normal people in every way, but that only hides the truth, especially their craving for human flesh. Rize is a ghoul, and her actions will change Kaneki.
THE LOWDOWN:
I was interested in the
Tokyo Ghoul
manga when I first got a press release from VIZ Media that they were going to publish this series as a digital manga release. VIZ is now publishing the series in print and sent me a copy for review. I'm glad that they did; I would have had to buy this otherwise.
Tokyo Ghoul Volume 1
slowly, but gradually brings the reader into a world that is both similar (through the eyes of a young college student) and also into a dark world that is just around the corner from the world in light (the world of the Ghouls). Creator Sui Ishida presents the life of a shy kid as if
Tokyo Ghoul
were a BL or shojo drama. Then, he presents a fantastic world that offers both mystery and intrigue and also violence and death.
So the narrative reflects the dual nature that comes to define Ken Kaneki. This first volume is a joy to read, but I wonder if the narrative will become trapped in its internal mythology around the Ghouls. Will character drama remain strong, or will it become subservient to genre trappings? If the drama remains strong,
Tokyo Ghoul
will be one of the best new series of the year.
POSSIBLE AUDIENCE:
Fans of horror drama will want to travel to VIZ Signature's
Tokyo Ghoul
.
Support this writer on Patreon
Last Updated: Jun 26, 2018 - 9:28