About This Movie: The Uninvited
By Leroy Douresseaux
Jan 29, 2009 - 5:48
DreamWorks Pictures Presents
In Association with Cold Spring Pictures
A Parkes/MacDonald Production, A Montecito Picture Company/Vertigo Entertainment Production
The Uninvited (2009)
DIRECTORS: The Guard Brothers (Charles Guard, Thomas Guard)
WRITERS: Craig Rosenberg and Doug Miro & Carlo Bernard
PRODUCERS: Walter F. Parkes, Laurie MacDonald, and Roy Lee
CINEMATOGRAPHER: Daniel Landin (D.o.P)
EDITORS: Christian Wagner and Jim Page
PRODUCTION DESIGNER: Andrew Menzies
COSTUME DESIGNER: Costume Designer
COMPOSER: Christopher Young
Starring: Emily Browning, Elizabeth Banks, Arielle Kebbel, and David Strathairn
Opening date: Friday, January 30, 2009
Running time: 87 minutes
Rating: MPAA – PG-13 for violent and disturbing images, thematic material, sexual content, language, and teen drinking
The Uninvited is a new horror film from DreamWorks Pictures and is based on Kim Jee-Woon's 2003 Korean horror film, Changhwa Hongryon. The Uninvited depicts a deadly battle of wills that begins when a young woman returns home after spending time in the hospital following the tragic death of her mother (Maya Massar). Anna (Emily Browning) wants to investigate the circumstances surrounding her mother's suspicious and untimely death, while she recuperates from the tragedy.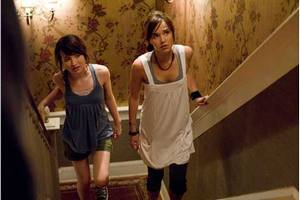 Sisters are investigating for themselves in this scene from the film.
Anna suffers a setback in her recovery when she discovers that her father, Steven (David Strathairn), has become engaged to her mother's former nurse, Rachel (Elizabeth Banks) and moves her into their home. That night, Anna is visited by her mother's ghost, who warns her of Rachel's intentions. Anna's dismay turns to horror when her mother's ghost cries out for revenge and points an accusing finger at Rachel.
Together, Anna and her sister, Alex (Arielle Kebbel) try to convince their father that his current fiancée is not who she pretends to be, but he refuses to heed their warnings. What should have been a happy family reunion becomes a lethal battle of wills between stepdaughters and stepmother. Anna and Alex look into Rachel's questionable past, but Anna may be underestimating Rachel – perhaps fatally so.

Visit The Uninvited film site.
Last Updated: Dec 19, 2017 - 22:52