Comics / Comic Reviews / DC Comics
Darwyn Cooke: The Spirit #4
By Leroy Douresseaux
May 1, 2007 - 09:09
Mr. Charlie #116 says, "Gawd, that man can draw:"
The Spirit #4 carries over from #3, and I just realized something that I should have caught onto from the beginning. This new series must be a re-launch or perhaps a re-imagining of the character.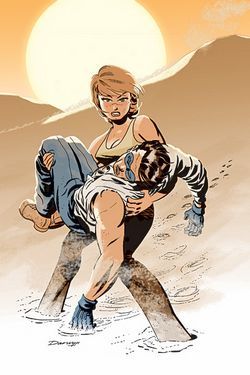 I want the original art to this piece.
First, the particulars: After the Spirit captures Hussein Hussein, a well-connected thief and confidence man, a CIA agent named Silk Satin shows up to take custody of him. It seems that Hussein is connected to the terrorist group, The Octagon and their leader, The Octopus. However, the Octopus' henchmen later capture Hussein, so the Spirit follows Satin to the Texas/Mexico border where the Octopus is supposedly holding him. After a fiery confrontation with The Octopus, the Spirit and Satin must make their way across the border back to the U.S., and they're chained together and have no supplies.
At a certain point, I realized that the Spirit acted as if he'd never met Silk Satin before she walked into Commissioner Dolan's office. Also, it apparently didn't stick in my mind that the Spirit and Ebony White don't seem all that familiar with each other. Plus, new Spirit maestro Darwyn Cooke draws Ebony as if he were a human and not sub-human racist stereotype of Black people. It took reading issues 3 and 4 back to back to hip me to the vibe of this new Spirit.
But you know: I'm really loving this book, and I'm loving Darwyn Cooke, which I have for the last three years or so. Although I have mixed feeling about DC: The New Frontier (the first two issues are truly great, but it slips in quality beginning with #3 and, except for a few good sequences, never entirely regains its footing), I actively seek out his work as a cartoonist. In J. Bone, he has a spot on choice as an inker for his style and technique. Colorist Dave Stewart comes across as a kindred spirit to Cooke. It's as if Stewart knows precisely how the finished colored art is supposed (even destined) to look.
Not only can Cooke draw pretty pictures, but he also just flat out knows how to draw. He is the perfect choice to follow Eisner. There are a select group of cartoonists who follow in the tradition of Eisner and Alex Toth in that there is a cinematic quality in how they draw. Jaime Hernandez, David Mazzuchelli, and, of course, Frank Miller come to mind. They're like filmmakers who are good at all aspects of filmmaking; they know art direction/set decoration, costume design and cinematography as well as they know cartooning – writing and directing. Cooke is one of those artists.
What amazes me is how much Cooke can say without using overly detailed art. From a neon-lit gentleman's club to the desert outback between the U.S. and Mexico, Cooke uses a few well place objects or landscape features to create environments that establish the story's setting. He cartoons the human figure with far fewer lines than many cartoonists and uses those lines better. Yes, I see this book in my buy pile no matter how different it is from Will Eisner's Spirit because [nerd alert!!!] I truly respect and admire what Cooke is doing with the character.
I also write movie reviews at http://www.negromancer.com.
Last Updated: January 24, 2022 - 11:00