Comics / Comic Reviews / More Comics
The Rocketeer/The Spirit: Pulp Friction #1 comics review
By Leroy Douresseaux
September 4, 2013 - 16:28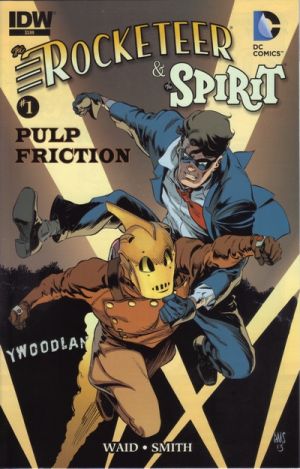 The Rocketeer/The Spirit: Pulp Friction #1 cover image
Dave Stevens' The Rocketeer and Will Eisner's The Spirit come together in a new comic book miniseries entitled, The Rocketeer/The Spirit: Pulp Friction. Written by Mark Waid and drawn by Paul Smith, Pulp Friction unites the two characters to solve the murder of a Central City politician whose corpse is found in Los Angeles.
The Rocketeer/The Spirit: Pulp Friction #1 opens in Central City in February 1941. It is cold and snowy outside, but inside City Hall, it is quite heated. The story moves to the following morning, three thousand miles west. Betty, Cliff Secord's lady, is doing a modeling shoot on a beach when she makes a grisly discovery.
When they learn that a denizen of Central City has been found dead L.A., The Spirit, Commissioner Dolan, and Ellen (the Commissioner's daughter) head to Cali. And The Rocketeer is ready to greet them.
THE LOWDOWN: Uniting The Rocketeer and The Spirit seems like such a no-brainer that I'm surprised that it's just happening now. The Spirit is a character from the "Golden Age" of American comic books, and The Rocketeer, who first appeared in the 1980s, harkens back to the "Golden Age" of both comic books and Hollywood.
The creative team of writer Mark Waid and artist Paul Smith is an excellent choice to chronicle the team-up of two beloved "old-timey" characters. When Waid is at his best, his comic books are pure fun, and as a fan of and expert on Golden Age comic books, Waid can write stories that capture the spirit of the 1930s and 40s, but tell them in a modern idiom. Best known in the 1980s for his elegant and animation-influenced drawing style, Paul Smith engaged comic book readers with his storytelling that hit on all points: character, plot, and setting. That serves him well in this series, which will mix adventure and action with mystery and suspense. I must note, however, that Smith's work in Pulp Friction is closer to Dave Stevens' in nature than to Will Eisner's – not that there's anything wrong with that.
POSSIBLE AUDIENCE: Fans of The Rocketeer and of The Spirit will want The Rocketeer/The Spirit: Pulp Friction.
Rating: 9 /10
Last Updated: January 24, 2022 - 11:00