Comics / Comic Reviews / Comic Strips
The Complete Peanuts 1963 to 1964 (Book 7)
By Leroy Douresseaux
May 31, 2007 - 14:33
Designer: Seth
Editor: Gary Groth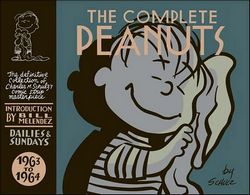 Thanks to barnesandnoble.com for the image.
The Complete Peanuts 1963 to 1964 (Book 7 in the series) finds the great daily newspaper comic strip, Peanuts, in its mid-60's classic period – what some aficionados consider one of the peak creative periods for creator Charles M. Schulz. By this point in the strip's history, Schulz has introduced the major characters (except for a handful) and has defined their personalities and habits. That includes such things as Charlie Brown's annual summer baseball trials and tribulations, Lucy Van Pelt's crabbiness, her brother Linus and his annual " Great Pumpkin" debacle at Halloween, and Schroeder's yearly celebration of Beethoven's birthday, to name a few.
Perhaps, baby boomers consider this a classic period because many of them came of age as this strip was maturing and hitting its stride, and that decade was the first time they could really appreciate the subtleties of Schulz's humor and the strip's dark and slightly morbid undertone. In fact, Schulz won the 1964 Reuben Award (his second) from the National Cartoonist Society for the work collected in this volume.
Personally, I encountered many of the strips from 1964 in the first Peanuts strip collections I got in the late 1970's and early 1980's. I still remember these favorites: Lucy goes to great extremes to show Charlie Brown his faults (late Jan. to early Feb. 64); Charlie Brown gets "Little League elbow" (Mar.); Lucy deprives Linus of his security blanket for a school science project (mid-April); and Linus runs for school president with Charlie Brown as his running mate, but blows a sure-win by revealing his belief in the Great Pumpkin (practically all of October except the Sundays).
If I may go out on a limb, there are two Sunday episodes that alone make this book worth the cover price. The May 17, 1964 Sunday finds Charlie Brown, Linus, and Snoopy watching a monster movie one night, and the ending of the strip is priceless – or at least should be to those who remember watching B-movie horror films at night as a child. The Sunday strip for June 21, 1964 is an ode to the humble, working class father and his proud son that surely is a message to us as Father's Day is so commercialized.
Bonus: The Complete Peanuts 1963 to 1964 has an introduction by animator Bill Melendez on how he first met Schulz and how that led to the making of "A Charlie Brown Christmas."
Last Updated: August 31, 2023 - 08:12