Comics / Comic Reviews / Comic Strips
The Complete Peanuts 1953 to 1954 (Book 2)
By Leroy Douresseaux
November 5, 2007 - 13:30
Designer: Seth
Editor: Gary Groth
Foreword: Walter Cronkite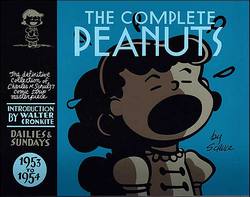 Thanks to barnesandnoble.com for the image.
Covering the fourth and fifth year of the beloved newspaper comic strip Peanuts, Fantagraphics Books' The Complete Peanuts 1953 to 1954 finds creator Charles Schulz feeling his oats. Not only is the Minneapolis-born cartoonist exploring what he can do with his characters, but he is also writing some excellent gag comedy and moving into longer, more situational comedy.
Taking note that Peanuts is funny is important considering that in the last month or so (as of this writing), two Charles Schulz biographies: the book, Schulz and Peanuts, by David Michaelis and an episode of PBS' "American Masters," as well as the accompanying media push for both emphasized what a sad, sad, tortured, depressed genius the late cartoonist was. The playful humor and bountiful spirit of youth that permeates the years 1953 and 1954 belie the notion that a terribly insecure man drew these strips.
Charlie Brown, Shermy, Patty, Violet, Schroeder, Lucy, Linus, and Snoopy form a solid octet as the strip moves into its fourth year. Lucy seems to come out of nowhere and practically becomes something of a co-lead in the strip with Charlie Brown. In fact, Charlie Brown is quite pushy himself. Although he often laments being unloved and unlucky, he's a spry, witty kid – a merry prankster who wields a short sword of sarcasm with a deft sense of humor. Lucy also joins Charlie Brown as he helps her seek the "Women's 1954 State Amateur Championship" in golf, a storyline that ran over four Sunday strips in May of 1954.
Linus still can't talk, but is slowly revealed to be a wunderkind of all tricks and trades. Lucy begins her battle with Beethoven for the attentions of Schroeder (who is apparently an only child of affluent parents). Snoopy is still dog-like – more like a classic TV or film pet – than the almost-human character he would eventually become. The wonderful dirty boy, Pig-Pen, makes his debut on July 13, 1954. He's a breath of fresh air that Peanuts didn't even need, so his addition is like the rich getting richer. Schulz manages to nearly neutralize the joy of Pig-Pen's arrival with the introduction of the horrid Charlotte Braun (November 4, 1954), who is a loud-talking Charlie Brown with a bad wig of curly hair.
In later years, Charles Schulz would impress many with how he used so few lines to create such vivid storytelling and evocative images. In these early strips, he puts more work into the backgrounds and sets, and he amazes with how such simple design and matter-of-fact line work create a decorative suburban world.
A-
Last Updated: January 24, 2022 - 11:00