Comics / Spotlight / Religion and Comics
The Book of Genesis Illustrated by R. Crumb
By Leroy Douresseaux
December 30, 2009 - 13:23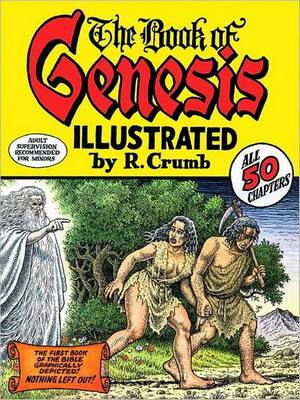 The Book of Genesis Illustrated by R. Crumb cover image
…Where as I, ironically do not believe the Bible is "the Word of God". I believe it is the words of men. It is, nonetheless, a powerful text with layers of meaning that reach deep into our collective consciousness, our historical consciousness, if you will. – R. Crumb
I took the above quote from R. Crumb's introduction to his own comic book, The Book of Genesis Illustrated by R. Crumb. Released back in October to some fanfare, The Book of Genesis Illustrated by R. Crumb has been examined by critics both from the world of comics and books. In fact, this book has been highly anticipated in certain circles since Crumb first announced this project about four years ago.
I have also been looking forward to it, and once I finally got a copy (about a month before its release date), I started reading it slowly. What took me so long? I've read the Bible, and I've read Genesis (the first book of the Bible) countless times. I've also been reading the comix of Robert Crumb for more than 20 years. I've never before read anything like The Book of Genesis Illustrated, and I had a better time understanding it once I realized that this is a comic book, not THE Bible. It is a comic book adaptation of a book in the Bible, but it is still a comic book.
I wouldn't even call it a graphic novel. Crumb and his publisher have emphasized that this is an "almost 100 percent faithful to the actual Bible" (from a press release), and Crumb has described this as "my visual, literal interpretation…" But this is a comic book, and not one burdened with cumbersome definitions of what a comic book is supposed to be – visual sequential narrative, graphic narrative, words and pictures, etc… This is very much like the kind of raw, unfiltered comics that Crumb has been doing since he chose comics as the medium through which to tell his stories and to communicate his ideas. Even being a hardback book, with a dust jacket and high-end production values, the contents come across as if they belong in an old-fashioned, newsprint, traditional, floppy, Crumb comic book from Fantagraphics Books or Last Gasp.
As I read through this, the book began to make sense. Perhaps because Crumb does not believe in the Bible as the Word of God, he strips the text of it sacredness or of its profound spiritual meaning. Yet, this take on Genesis clearly remains powerful and profound because it is both a text of history and of storytelling. Crumb's text is not about God's divine relationship with man (in particularly Abraham and his descendants). This is about human nature, and that is the subject at which Crumb has always been his best – telling stories about people, their personalities, their cultures, the times in which they live, how they live, and their relationships with one another.
I don't doubt that Crumb found the Bible to contain some powerful storytelling. The result of his efforts is another R. Crumb comic book, clearly one of his best works, but still a Crumb comic book. When I came to Chapters 30 and 31 ("Jacob prospers at Laban's expense; Jacob flees with family and flocks; Laban and Jacob make a covenant), I found that Crumb's graphic storytelling interpretation of this particular "story arc" said more about the nature of man than the nature of man's relationship to a divine being. Jacob is a liar, cheater, and thief. Everything he does is a reflection of his selfish, me-first nature. When Jacob uses God's will to justify his actions, he is suddenly like any other man who explains his action as divinely inspired. Viewing Crumb's take on Jacob's story as spiritual is difficult, and stripped of notions of spiritual purity, Jacob's story is merely a human one with nothing heavenly about it.
The Book of Genesis Illustrated by R. Crumb is worthy of note not just because Crumb is another "great comic book artist." Crumb belongs on that short list of the very best comic book creators (Eisner, Kurtzman, Kirby, and few more), so any Crumb comic book is due serious attention. So, while this comic book interpretation of the first book of the Bible has convinced me that this is my preferred way of reading the Bible, The Book of Genesis Illustrated by R. Crumb is first and foremost a comic book – an excellent one by an exceedingly special comic book creator, but just a comic book.
Last Updated: January 24, 2022 - 11:00