Interview with Sophie Crumb
By LJ Douresseau
May 3, 2004 - 10:42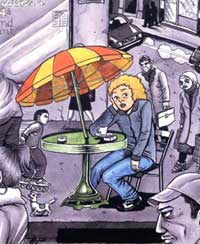 You may have seen her in the film CRUMB. If you've been a regular reader or devotee of R. Crumb's comics for at least the last two decades, you've seen a cartoon representation of her as a toddler or as an independent Parisian teen. She's Sophie Crumb, the daughter of acclaimed cartoonist Aline Kominsky-Crumb and Underground comix legend and one of the most well-regarded comic book artists in the history of the medium, R. (Robert) Crumb.
Sophie has also joined the family business when Fantagraphics published her comic BELLY BUTTON COMIX #1 in early January of this year. Oog & Blik of The Netherlands publishes BBC in Europe. However, this isn't the first time we've seen Sophie's art. In Terry Zwigoff's 2001 film adaptation of Daniel Clowes' graphic novel, GHOST WORLD (also the title of the film), Sophie's drawings and watercolors are used in the sketchbook of lead character Enid (played by Thora Birch). Zwigoff also directed the 1994 film, Crumb. In addition to art, Sophie is a musician and has trained at a circus school and toured France with a traveling circus.
After I first received Sophie's comic BBC #1, I was trying to find a way to avoid reading or reviewing it. I love her father's work, and I didn't know if I could be fair. I certainly am willing to lie when put in the position to do so, but thankfully Sophie didn't let me down. I enjoyed BBC, especially the short tale, "Eddy Bear."
Although Sophie has told other interviewers that she doesn't consider herself a professional artist, she is as good as many pro cartoonists. I look forward to BBC #2, and I hope she remains in comics. I interviewed her back in February, and that e-discussion becomes Mr. Charlie #28:
I was surprised to find out that you were so young. Sometimes, children of famous parents seem to struggle if they move into the same professional field as their parents. But it seems different with you. Belly Button Comix reads as if you dropped the gauntlet, saying, "Sophie's here, and she's all good." Have you had to spend a lot of time reminding people that you are your own woman or artist, so to speak?
SOPHIE: well, even if I seem young to you, for me it took a long time to finally convince myself that I was capable of doing decent comic...I went through years of starting them, and not finishing cause I thought they sucked. I didn't even give myself a chance! It's hard, cause my dad is a perfectionist, and so I put a lot of pressure on myself without realizing it...you have to start out bad if you want to end up good ( that's what I say to myself )!
But people in general are less jerky about it than you'd think. They seem to often get that I am a different person, gender, time, and all that makes what I do into something else...(thank god I'm a girl !) But it's also easier cause my parents are really good to me and supportive, which has helped me be strong about the whole situation. Other kids who are emotionally unstable have a hard time believing in themselves, and it's not their fault. I'm just lucky.
When did you first start drawing with an eye on producing your own comix? Were you doing a lot of drawing that ended up lost in sketchbooks? I'm surprised that in a first comic you've captured that visual rhythm that comics need in order to work and make sense to a reader.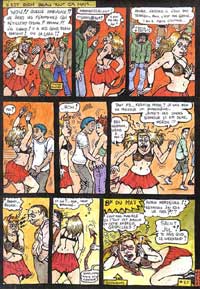 SOPHIE: I always did a lot of comics just to fool around, always had and have a sketchbook to draw whatever, and then when I started living alone and wanting to make money in a more artistic way then teaching English ( a couple of years ago), I decided I had to do a nice publishable comic book. My friend Mara from Oog & Blik in Holland also wanted to publish my first comic, so she helped me get at it, and I did it for Oog & Blik in the beginning. That's when it's most hard to create though, when you know that people are gunna see it and judge it....the pressure's on ! Thank you for the visual rhythm...
Who were your influences, not just in terms of drawing style, but in approach to comics storytelling?
SOPHIE: Guess!! My father and mother, of course. My dad read comics to me when I was little and I was surrounded by them and reading them and seeing them be drawn so it's kind of normal that I'd be subconsciously inspired by their storytelling and art. Then in France I discovered all the French cartoonists ( pretty late ), and I'm still discovering them now and I'm still amazed at their clever storytelling and art (so subtle)!
But, aside from my parents, I love Joe Matt, Phoebe Gloeckner, Julie Doucet, of course, Johnny Ryan, Dan Clowes, Jessica Abel, Bill Elder, Popeye, Jason, Dori Seda, Anders Nilsen etc etc etc...and a lot of unknown small press and French artists. Oh yeah, and Osamu Tezuka, the incredible Japanese manga ka who wrote the life of Buddha in 8 volumes of 500 pages each.
Before you moved to France with your parents, were you reading "mainstream" comics, like Marvel, DC, or Archie, and what did you think of them? Or did your interest in comics start with small press and Underground?
SOPHIE: No, I never read mainstream comics. Except stuff like Popeye, Donald Duck, Little Lulu, but all that stuff was from the 30's and 40's and 50's. Aside from that I mostly read books like Little Golden Books, Roald Dahl and Judy Blume and stuff. And also a lot of old cartoons from the 30's. That was a complete brainwashing in the good way ! As a teenager, I started to be interested in small press and underground and zines and made my own zine with my friends and sold it in the street. I don't like superhero comics at all. I tried but I just can't. Sorry !
I thought I noticed the influence or flavor of 1930's cartoons in "Zozo & Zaza." Are you going to explore those characters more in future issues?
SOPHIE: I dunno what I'm going to do but maybe.
Sometimes storytellers explore genres, styles, or artistic mediums that made an impression on them as children. Could you see yourself doing homages or pastiches of Roald Dahl, Judy Blume, or Donald Duck just because you really liked them and want to create stories that look like those works? Or is there more to Zozo & Zaza" than style? An example would be a fan of Akira (the manga) who did an Akira-like comic not because he wants to explore telling stories via manga, but just because he likes Akira so much that he wants to copy it - some kind of fetish, I imagine.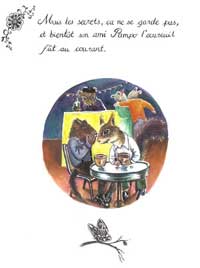 SOPHIE: um, I don't think I'll do homages or pastiches of Roald Dahl and Judy Blume, I don't wanna try to deliberately copy something. It's more about trying to find what is real that comes out of you and you can see the inspirations that come out subconsciously....ahem. But It's hard to find your own style without being directly influenced by what you know well.
Do films influence your comix? I wondered about that after reading the "Eddy Bear" short. One of the things about pantomime is that the art has to be clear and very expressive. Any important element that is too subtle hurts the storytelling. Silent film and sometimes sound film have to rely on visuals without sound, so do you big up storytelling tips from film?
SOPHIE: um. I don't know. I think that came from my frustration between the 2 languages, French and English cause maybe I wanted my friends to understand the comic too or something. It was also cool to have a strip to breathe after all that neurotic bla bla. And Eddy bear is a French bear it seems, so it would have been weird to make him talk English.
Belly Button Comix #1 contained a lot of shorts. Are you going to stay with short features or are you planning something longer, a graphic novel, perhaps?
SOPHIE: For now I am trying to make a comic about the past six months of my life for BB#2, and I don't know how long it will be. I don't plan things that much...maybe I should..? And there will be some one-page strips about dreams and stuff. No graphic novel on the horizon, yet ..
How did Fantagraphics get involved in publishing your comix? Did they talk to you about how non-receptive (hostile, actually) the U.S. Direct Market could be to work like yours?
SOPHIE: Eric Reynolds (from Fantagraphics) wanted to publish it along with Oog & Blik cause he liked it. We hardly talked about the US market and I don't know how it is towards comics, but as long as it's out there, that's a good feeling.
Are you going to visit the U.S. in the future, maybe to tour comic shops or attend conventions?
SOPHIE: I have no idea, cause I don't know what I'll be doing, maybe tattooing, maybe playing music and trying to draw some comics, but not necessarily only doing comics....maybe I'll be selling drugs in Brooklyn...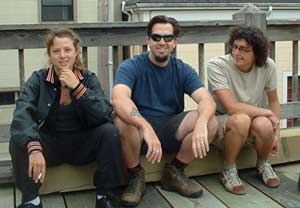 THANK YOU, SOPHIE. The Family Crumb has a website, www.crumb products.com, where you can purchase everything from apparel and figurines to books and posters by the Crumbs. Belly Button Comix #1 and SELF-LOATHING COMICS #2 (an Aline and R. jam comic in which Sophie makes a small contribution) are available from Fantagraphics Books at their website www.fantagraphics.com, the place to buy some of the world's best comics, graphic novels, comics-related books, and assorted nice things.
The photo included with this column is of (from left to right) Sophie, her older brother Jesse Crumb, and a fellow name Cederic. All art is © Sophie Crumb. You can visit Oog & Blik, Sophie's Amsterdam-based European publisher at www.oogenblik.nl.
And if you are a comics creator or publisher and you want to send me material for review consideration or you just want to talk about your book in a Charlie column, punch the click-able name link to send me an email. Holla!
Last Updated: September 6, 2021 - 08:15