Comics / Comic Reviews / Comic Strips
The Bloom County Library Volume 1: 1980-82
By Leroy Douresseaux
November 23, 2009 - 11:53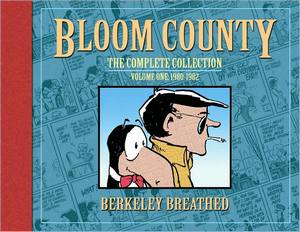 The Bloom County Library Vol. 1 cover image is courtesy of barnesandnoble.com.
Bloom County was an American newspaper comic strip which ran from December 8, 1980 until August 6, 1989. Created by Berkeley Breathed (Outland, Opus), Bloom County commented upon, examined, and satirized the events in politics, culture, and pop culture that occurred during its run on newspaper comics pages. Breathed would go on to win the 1987 Pulitzer Price in editorial cartooning for his work on Bloom County.
Readers can return to the pastoral world of that fanciful small town called Bloom County in The Bloom County Library Volume 1: 1980-82. This is the first of a five-volume project that will be a complete reprint of the entire strip. Breathed and series editor, Scott Dunbier, offer commentary, printed in the margins of the pages, that illuminate Bloom County's numerous references to real-life personalities and events.
Bloom County was born out of The Academia Waltz, the comic strip Breathed produced for the University of Texas' student newspaper, The Daily Texan. In The Academia Waltz (13 episodes of which are included in this book), Breathed's irreverent attitude about American life comes through in episodes about the politics of dating and of interpersonal relationships in general. By the time Bloom County debuted on December 8th, 1980, Breathed was ready to take on what was then the current state of America.
However, Breathed was not merely poking fun at the usual suspects in politics (corrupt politicians), family relationships (old-fashioned, chauvinistic husbands), and business (fast food restaurants). In Bloom County, Breathed was a slayer of all sacred cows, and in order to do this the best, Breathed apparently understood that what Americans were doing and how they were living at the time was also rooted in the past. Breathed's work recognized the dynamic of the past, present, and future. In individual episodes and in story arcs, he found humor in current events, but told them in a way that was timeless. In a narrow sense, he gave us comedy, but in a broader sense, he made observations and told truths that reached beyond the moment. An example of this is Breathed's depiction of the real-life Moral Majority.
The character, Otis Oracle, was the leader of Bloom County's local branch of the Moral Majority. The Moral Majority was founded in 1979 by arch-segregationist and Teletubby hater, the late Jerry Faldwell, who was an evangelical Christian pastor and televangelist. Like Faldwell's group, Otis Oracle's ideas and notions about what America should be were rooted in the belief that the United States had lost its "moral compass" (probably in the 1960s).
Oracle, whom Breathed made an older man (perhaps, late middle ages) whose life was clearly shaped in a time long since past. In various episodes, Oracles battles were against the Moral Majority's demons of the 1980s: rock music, sexual freedom, women's liberation (especially wives who wouldn't submit to their husbands' authority). However, Oracle was more than just a one note joke about conservative and religious values. Rather than being a mere punch line, he was just another hapless guy, confused by change. We recognize Oracle's basic struggles – to make sense of a world that no longer made sense and to have a measure of control in an out of control world – because they are timeless universal struggles.
In these first two years of the strip presented in The Bloom County Library Volume 1: 1980-82 are the seeds of what would make Bloom County arguably the definitive comic strip of the 1980s. Readers unfamiliar with Bloom County and those born after the strip's run should not assume that Bloom County is dated. An American cartoonist examining and poking America is a time-honored tradition. Bloom County worked so well and was so popular because readers back then recognized their nation and their people in this strip. As this collection reveals, readers will still recognize their county, and they're still going to be laughing.
A
Last Updated: August 31, 2023 - 08:12