Comics / Comic Reviews / Comic Strips
Bloom County: Brand Spanking New Day comics review
By Leroy Douresseaux
September 25, 2017 - 12:03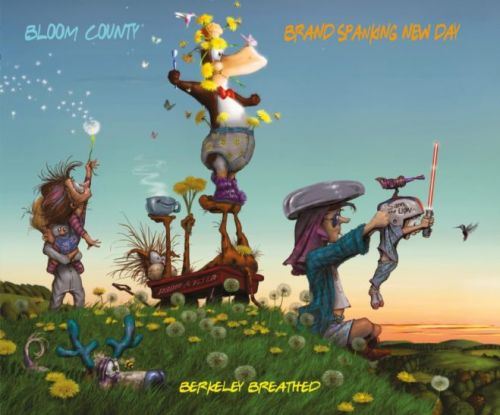 Bloom County: Brand Spanking New Day cover image
Bloom County
was an American newspaper comic strip which ran from December 8, 1980 until August 6, 1989. Created by
Berkeley Breathed
, Bloom County commented upon, examined, and satirized the events in politics, culture, and pop culture that occurred during its run on newspaper comics pages. For his work on Bloom County, Breathed won the 1987 Pulitzer Price in editorial cartooning. He also went on to create two Bloom County follow-up newspaper comic strips,
Outland
and then
Opus.
In July 2015, Breathed revived Bloom County and posted new episodes on his Facebook page. In September 2016, IDW Publishing released the first print collection of the Bloom County revival,
Bloom County Episode XI: A New Hope.
This week sees the release of the second collection,
Bloom County: Brand Spanking New Day
. This color paperback (9.5" x 11.5") collects strips #180 to #386 (if my count is not off). IDW provided me with a copy of Brand Spanking New Day for review.
Milo Bloom, Michael Binkley, Opus, Bill the Cat, Steve Dallas, Cutter John, Oliver Wendell Jones, and Tom Binkley are back for a second helping of the Bloom County revival. New characters like Abby, Sam the Lion (a child suffering from leukemia), and Sue (Sam's mother), join the familiar Bloom County characters to take on Donald Trump, biker chicks, sticky buns, penguin-killing animals, Star Wars, phoning and Segway-ing; and an ugly dog. Plus, it's the return of Billy and the Boingers.
THE LOWDOWN:
One wag/reviewer/critic said that the return of Bloom County was like the return of a Ronald Reagan-hair band. The truth is that there was nothing remotely like Bloom County when it debuted in 1980 and there was still nothing like it when Breathed discontinued the strip in 1989. A little over a quarter-century later when Breathed revived the strip there is still nothing like it. That is saying a lot because it seemed as if quite a few popular newspaper comic strips and webcomics (web-based comic strips) that debuted in the decade or so after Bloom County's conclusion were heavily influenced by Breathed's strip.
Bloom County remains whimsical, its satire pointed, but sometimes indirect. It has soul and imagination, and is subject to flights of fancy. Breathed is often sublime when it would be easier to be clever, and where so many struggle to find a balance between droll and snarky, Breathed is simply philosophical about our and his characters' messy natures.
So Bloom County is not a retro tour; it is most certainly a revival. Brand Spanking New Day is not all classic material, although some come close, and Breathed's illustrations remain things of beauty. Unlike some revivals, Bloom Country remains stubbornly iconoclastic. There is nothing like Bloom County, and it often confounds – its readers and and it characters.
I READS YOU RECOMMENDS:
Fans of Bloom County and of exceptional comic strips will want
Bloom County: Brand Spanking New Day
.
A
8.5 out of 10
https://www.facebook.com/berkeleybreathed/
https://www.berkeleybreathed.com/
Rating: 8.5 /10
Last Updated: January 24, 2022 - 11:00