The Comics Journal #298
By Leroy Douresseaux
August 9, 2009 - 10:41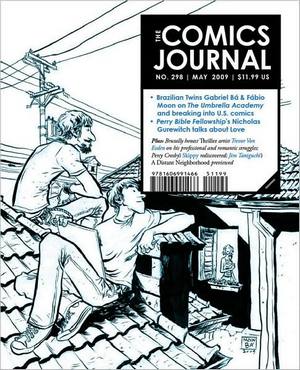 The Comics Journal #298 cover image
While the brotherly comic creator duo of Gabriel Bá and Fábio Moon are the cover feature of The Comics Journal #298, the star feature of this issue is comic book artist Trevor Von Eeden. In a no-holds-barred, let-the-bodies-hit-the-floor, brutally honest interview, interviewee Von Eeden and interviewer Michel Fiffe will have readers sometimes crying, "Too much information!" and other times begging, "More, more!"
Von Eeden, who was apparently DC Comics' first African-American employee, is best remembered for his early 1980s series Thriller, co-created by Robert Loren Fleming and published by DC. Von Eeden left Thriller after the eighth issue (Fleming left after the seventh issue), and Thriller lasted only 12 issues. Still, the series remains something of a cult success with both professional creators and fans appreciating it as groundbreaking and sophisticated. On the other hand, even after Thriller, Von Eeden was seen as a rising star, but then, he gradually faded into obscurity.
Fiffe gets Von Eeden to explain what happened, obviously from the artist's point of view, and while Von Eeden takes some responsibility for the malfunction of his next-big-thing starship, he heaps plenty of blame on his bosses at DC. I've heard some crazy stories about DC (from pros) concerning racist behavior, but Von Eeden's story about the humiliate-the-black-man prank that a group of editors tried to pull on him is mind-boggling to read (even after my third reading of the incident). But that ain't all; Von Eeden talks about the woman who… took his innocence, Lynn Varley. Yes, that Lynn Varley.
A long time ago, in a decade far, far away, The Comics Journal published such scandalous and provocative interviews as the Von Eeden one on a regular basis. [One of them even earned the magazine and its publishers a libel law suit.] I wish the Journal still got down like this…
Meanwhile, the Gabriel Bá and Fábio Moon interview, conducted by Diego Assis, is also a surprise. For artists, the brothers are surprisingly verbal, and they're also examples of artists that work hard at the medium in which they ply their trade – both as a craft and as an art. They work hard at polishing technique and at creating comics, but they also seem intellectually curious. On a side note, the brothers explain their nicknames.
In this episode of his "Comicopia," critic and historian R.C. Harvey takes on the controversial Sean Delonas-Barack Obama editorial cartoon which appeared in the New York Post back in February 2009. In his essay, "The Inevitable Racism," Harvey looks at the cartoon itself (the chimp as Stimulus Bill writer that was shot by a cop), the accusations that Delonas was using historical anti-African-American imagery to portray Obama as the chimp, and broader issues of free speech, among many other subjects. I find parts of Harvey's argument both patronizing of Black people who protested the cartoon and also dismissive of our concerns about the threat racist imagery poses to our well being. However, the essay is largely both thoughtful and insightful, the kind of exceptional writing that would normally earn a magazine about comic books an Eisner Award…
There's lots of other stuff including an interview with Nicholas Gurewitch of The Perry Bible Fellowship and another Harvey article, this one on the state of newspaper comics. The Comics Journal has been including a "comics section" for a few years now, which usually reprints several pages of comics from the distant past. This issue the focus is on Percy Crosby, an illustrator and newspaper cartoonist who worked in the first half of the 20th century, and TCJ gives us 31 pages of Crosby's most famous work, the comics strip, Skippy.
A-
Last Updated: August 31, 2023 - 08:12