The Comics Journal #295
By Leroy Douresseaux
March 17, 2009 - 06:35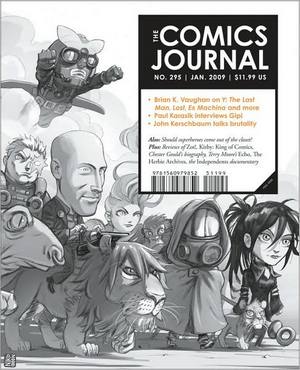 The Comics Journal 295 cover image is courtesy of barnesandnoble.com.
The Comics Journal #295 introduces a new format for the venerable magazine of comics journalism, essays, feature writing, interviews, and, for the past few years, reprints of selected comic books and comic strips. Now, TCJ actually looks more like a journal or like that magazine/book hybrid known as "the mook. The new format, which includes a laminated cover, should be friendlier to bookstores where TCJ will have a place on bookshelves rather than in the magazine and periodicals section.
TCJ #295's cover feature is a 38-page interview of writer Brian K. Vaughan (Ex Machina, Y: The Last Man, and the television series, "Lost"). No, there aren't any revelations about Y: The Last Man, such as a definitive answer about the origin of the plague. The interview is more an overview of Vaughan's career as a writer, about his navigation of publishing and editorial waters. The interview, conducted by Sean T. Collins, doesn't offer insights into Vaughan the artist. Vaughan is merely a writer of highly polished, professionally crafted pulp fiction and genre entertainment; still, insight into his craft would have been interesting.
A more interesting interview is Paul Karasik's visit with Italian cartoonist, Gipi (Gian Alfonso Pacinotti), whose comic book, They Found the Car, is a must read. Robert Clough talks to the underappreciated John Kerschbaum (Petey & Pussy). My favorite interview was Noah Van Sciver's three-page, color, comic strip version (known as a "cartoon interview") of a Q&A creator Liz Prince (Will You Still Love Me if I Wet the Bed?) gave after a talk.
Managing Editor Michael Dean's piece on the good and bad precedents set by Houghton Mifflin's Best American Comics series is a damn good read. Noah Berlatsky's "Comics in the Closet," about the inherent homosexuality of superhero comics, is also a good read, although it seems a bit unfocused. Still, Berlatsky's piece is the kind of writing – engaging, thoughtful, and probing – that makes TCJ the best magazine about comic books ever published in the U.S.
The "Reviews," as usual, offers several good pieces, including excellent and in-depth book reviews of Kirby: King of Comics and Chester Gould: A Daughter's Biography of the Creator of Dick Tracy. R.C. Harvey's "Comicopia" examines the life of Flash Gordon and Rip Kirby creator Alex Raymond in a comprehensive article that also discusses the recent Raymond bio, Alex Raymond: His Life and Art.
Harvey also helms this issue's "comics section" which includes a biographical article on newspaper cartoonist, Charles A. Voight and includes 20 pages of Voight's 1915-16 humor strip, The Theorist. All that and Kenneth Smith – The Comics Journal #295 worth the money!
A-
Last Updated: May 19, 2020 - 12:25