Comics / Manga / Yaoi Manga
Steal Moon: Volume 2 (Yaoi)
By Leroy Douresseaux
Aug 26, 2009 - 9:54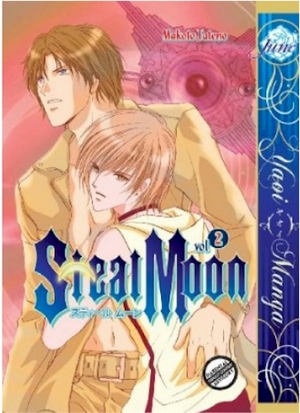 Steal Moon cover image is courtesy of Anime Castle Books.
Sci-Fi/Drama/Romance; Rated "M" for "Mature Audiences 18+"
A young man thrown into an out of this world conspiracy fights to save his lover in Steal Moon, Vol. 2, a yaoi manga from manga-ka Makoto Tateno (Angelic Runes).
Nozomi Amada was a champion street fighter, and no one could beat him. Then, the mysterious Coyote challenged him; if Coyote won, Nozomi would have to become his slave. After Coyote quickly trounced him, Nozomi awoke to find himself a sex slave in a "peeping room" website. Trapped in a small apartment, Nozomi was expected to perform degrading sexual acts to entertain Internet viewers who could spy on him via webcam. The more Nozomi degraded himself, the more paying viewers he got, and the more money he could earn to buy his freedom.
Nozomi later discovered that this peeping room site was merely a front for a conspiratorial group that believed mysterious entities on the moon were keeping the city of Akatsuki under surveillance. These mysterious entities turned out to be a single satellite called Isis. Isis has a powerful laser that can find and destroy a target anywhere on the planet. In Steal Moon, Vol. 2, Coyote, Nozomi, and a team of experts must solve the mystery of this strangely human computer in order to save millions from total annihilation on the eve of a huge national election. What they don't know is that one of them is a traitor.
THE LOWDOWN: As I wrote about the first volume, the second volume of Steal Moon is more of a cockeyed, sci-fi tale than a yaoi manga. While this narrative does feature semi-graphic depictions of sex between Nozomi and Coyote, this is really a conspiracy and espionage thriller. It features a team of operatives racing against time to stop a doomsday device – in this case the lunar satellite Isis – and there is some sex. This is a good read the way most Makoto Tateno manga usually are. Her scenarios are wacky, but the characters are always (at the very least) interesting enough to keep the reader interested in what happens every time they turn the page.
POSSIBLE AUDIENCE: Readers who want a storyline with their yaoi sex scenes will enjoy Steal Moon.
B
Last Updated: Jun 26, 2018 - 9:28