Comics / Manga / Yaoi Manga
Makoto Tateno's Steal Moon: Volume 1
By Leroy Douresseaux
Sep 7, 2008 - 13:02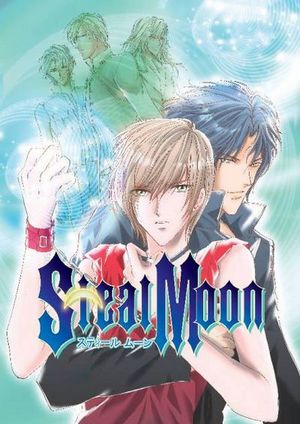 The above is the cover for the original Japanese edition. The U.S. edition will keep the cover illustration and add English cover copy.
Rated "M" for "Mature Audiences 18+"
Nozomi Amada is a champion street fighter. No one can beat him until the mysterious Coyote challenges him. If Coyote wins, Nozomi must become his slave. Coyote quickly trounces Nozomi, who later wakes up and finds himself a sex slave in a "peeping room" website. Trapped in a small apartment, Nozomi is expected to perform degrading sexual acts to entertain Internet viewers who can spy on him via webcam. The more Nozomi degrades himself, the more paying viewers he gets, and the more money he can earn to buy his freedom.
However, Nozomi discovers that this peeping room site is merely a front for a conspiratorial group which believes that mysterious entities on the moon keep the city under surveillance. Somehow, Nozomi holds a key to solving an interplanetary mystery, and Coyote wants the answers and also wants to get in Nozomi's pants.
THE LOWDOWN: It's more of a cockeyed sci-fi tale than a sexy yaoi manga, although it does feature graphic depictions of sex between male lovers like other yaoi manga, but Steal Moon is strange enough to be entertaining. The mix of violence (some bloody gunfights), comedy (in the form of a pair of too-sexually aware children), sex (hard and fast) and sci-fi/fantasy (juvenile pulp) makes for a misbegotten Mulligan's stew – tasty and unusual.
POSSIBLE AUDIENCE: Who knows? I'm not even sure why I like this.
B+
Last Updated: Jun 26, 2018 - 9:28