Shockinis
By Hervé St.Louis
May 21, 2004 - 13:26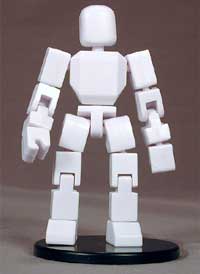 There are several miniature action figure lines on the market but none are quite like Shocker Toys' Shockinis. The Shockinis are the first official product released by New Jersey-based Shocker Toys. It is a small company headed by Geoff Beckett. Shockinis are three inches tall block toys that collectors can customize. They are like little robots. The model sent by Shocker Toys is the basic pearl grey type.
Sculpt
Shockinis are block toys. Except their heads, all of their body parts are cubic. The fronts of their chest have bevels that mimic a male torso. Their heads are like rounded cubes. Shockinis' Hands are simple in design. The upper part is for all the fingers. The lower part is like a large thumb.
Paint
Although some Shockinis come with theme colours, the one reviewed was colourless. As customizable figures, they accept paint and to be sanding. The plastic may be too polished for customizers to paint without preparing them.
Scale
Shockinis are three inches tall. I liken mine to an updated mini Autobot fitting with a Generation One Diaclone Transformers line should be. In other words, Shockinis are good stand in for characters like Windcharger and Gears. They are smaller than larger Autobots like Jazz and Sideswipe, but taller than humans.
Stability
Shockinis are very stable. In fact they are so stable that they don't even need the stand that comes with them. They have peg holes in their feet. However, it's not compatible with the peg hole of larger figures such as G.I.Joes and six inch characters.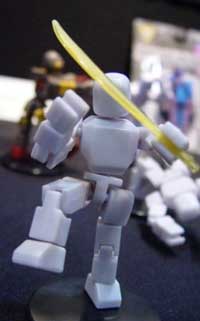 Articulation
Shockinis have 18 articulations. Except their elbows and knees, little pegs hold their joints. The pegs provide another level of articulation and a greater range than would be offered if each joint were directly tied to one another. Shockinis can twist and bend their heads, shoulders, biceps, wrists, waists, hips, thighs, and ankles. Their knees and elbows move in one direction, not that more would really matter.
Plastic
A Shockini's stock consists of hollow but durable plastic. The plastic is clean and doesn't have any dent, like Marvel Legends or that annoying smell that characterizes DC Direct figures. These toys are more resistant as Shocker Toys made them with kids in mind.
Props
Some Shockinis come with props like swords and exchangeable parts. The one reviewed had but an action figure stand.
Packaging
The Shockini sent by Shocker Toys came in a small plastic bag. Retail versions come with a cardboard card, five props and a few stickers.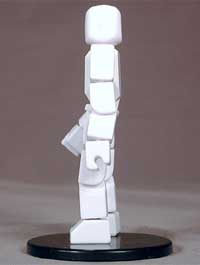 Cost
Shockinis go for about $6-7 each. If it weren't for the quality of their plastic, this would be very expensive. Given that Shocker Toys is a small company, the higher price is justified. Hopefully, as sales trickle in, Shocker Toys will reduce the price of the figure, or offer them as two packs or multi packs to lower their prices.
Availability
Shocker Toys is a small company. Currently, Shockinis are available at specific retailers online and offline. The complete list is available at www.shockertoys.com. As Shockinis are new toys, which aren't even released as I write this, we don't know whether they will prove popular. However, Shockinis offer fans the opportunity to build their collection from the ground up.
Read related reviews such as:
Interview with Jerry Macaluso of Sota Toys
Last Updated: Jun 26, 2018 - 9:28