Interview with Jerry Macaluso of Sota Toys
By Hervé St.Louis
Apr 21, 2004 - 13:59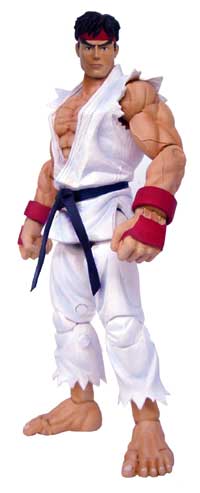 Sota Toys is a sculpting and special effects studio, and producer of collectors' action figures. This summer, they are releasing several action figure lines.
Hervé
Hervé: What's sitting on your desk right now, that wasn't made by Sota Toys - and I'm not talking family pictures!
I have a couple McFarlane Sports figures . They're beautifully made and we're using them as the standard of quality for a new line we're currently working on. I also have a Spiderman 2 movie figure that has some great articulation and all of the Hellboy figures. I think Mezco has made the best figures of the year with those!
Hervé: Where do you get the drive for producing toys?
Im first and foremost a sculptor, not a business man. You combine that with my being a workaholic and you can see how I never get bored making toys. To be honest my whole life revolves around it and I think that's the key to being successful. You have to be obsessed.
Hervé: Your company was involved in special effects and prop designs. What are the differences between designing props for films and designing action figures?
The movie business is way more stressful than the toy industry and there are a lot more fingers in the pot, so to speak. I find making toys a much more personal experience. I feel myself and my artists have more freedom in toys. We did a lot of stuff on Spielbergs A.I. film and let me tell you it's a very rigid system and not very enjoyable at all. Everything is micromanaged.
Hervé: Do you sculpt everything manually or do you use digital scanners and 3D modeling software to create characters?
Really depends on what it is. For Riddick we scanned the actors heads but chose to sculpt the bodies. For Street Fighter there is nothing to scan so its all sculpt. We find that scanned heads often need a LOT of work by a sculptor because they are lifeless. Im not a big fan of computers taking away the art of sculpting so in the future we will probably only scan when absolutely necessary.
Hervé: What kind of thinking goes into planning the articulations of an action figure?
A lot of thought. Every figure is different. First thing you have to do is decide what is most important to the figure..sculpt or poseability. For Street Fighter its obviously poseability. For Riddick its in the middle. We also have some stuff coming out later this year where its all about the sculpt and theres only a few swivels in there. You also have to take into consideration the design of the character and where you can hide the articulation. We're currently trying to develop some new types of articulation but it'll be a year before you see any of that.
Hervé: It seems that many action figures sold to collectors' markets are in the six-seven inch scale. In your opinion, what's the best scale for action figures?
I think both 6 and 7" are viable scales. The deciding factor for me is whether the characters fit more into Marvel Legends or Movie Maniacs. I believe those two lines decide the scale. Street Fighter is obviously a Marvel legends type line where Riddick is a Movie maniacs type line..Charmed we made to be in scale with buffy figures.
Hervé: Are you willing to experiment with figures with another scale? Are they any benefits in reusing sculpts for say the 4 or 3 ¾ action figures?
I don't think theres a big enough market for most things to make a 7" line and then shrink them to 4" and rerelease them. But we do have some lines we'd LOVE to do in the 3-4" scale…I just think it depends on the property.. if you did something like Dungeons and Dragons you'd want a small scale so you can make a big dragon and not have it be 5 feet long and 200 bucks.
Hervé: Do you feel that backdrops, stands and dioramas are essential for collectors, action figures, or is it more something to be decided per line?
Definitely decided on a per line basis. We did a great big playset type thing with Charmed because we just felt it was necessary to spice things up a bit. With something like Riddick the sculpts and paints are so complicated and costly we cant afford a display base and still keep it in the $10-12 range which I believe is very important.
Hervé: How much more can props and backdrops add to the cost of producing an action figure?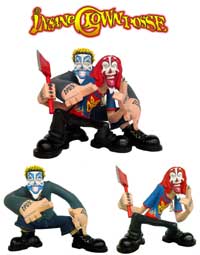 A lot. The display bases for Charmed cost more than the figures. McFarlane does a lot of display bases because they save a TON by not putting a lot of articulation in their figures. You'll be seeing a similar thing being done by us late in the year.
Hervé: After how many wave can an action figure line become profitable?
Truth is if its not profitable on the first wave we , as a small company, cant afford to do it. Having said that Street Fighter was always looked at as multiple waves and we'll probably be into wave two on that line before its profitable.
Hervé: In your experience, do you subscribe to the vision that if you build it the fans will come or do go the opposite way and survey collectors for what they would like to collect?
Strange you would ask that as we're developing some totally original unlicensed stuff. So basically we're building it and we sure hope the fans come! Not to get on a soapbox but the unfortunate thing is its more about getting the retail stores to buy into it so the fans can even have the choice of buying it. We're thinking our first original line might be internet only.
Hervé: How different is making toys for kids than it is for grown up collectors?
It's a lot tougher making toys for kids. I'm a grown collector and like to think I understand my fellow collectors. I remember being a kid and what I liked at that age but kids are fickle. We're currently developing a kids line and I pull my hair out trying to pinpoint whats going to make it fun for kids.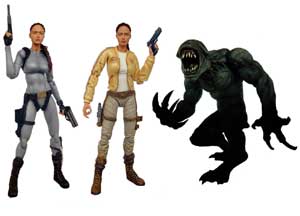 Hervé: How do you determine the overall line balance and which license to acquire to remain profitable?
Well I usually go after what I think is cool..lol..not always the best business decision. There are very few things we have done strictly for money. I usually insist there be some kind of artistic reward above and beyond the profit. Im a movie fan and I gravitate towards movie licenses because I understand them. Im a video game fan secondly so for us to take on a game license it usually has to be something special like Street Fighter. That was too good to pass up. We're doing a lot of music stuff right now and I have to say Im not necessarily a fan of all the groups musically but artistically I see something in them all. Snoop is a good example..Im not a huge rap fan but I always thought Snoop had a great image and when we were approached about the figure I KNEW exactly what It needed to look like. Twiztid is another group we're doing figures for that I knew exactly what they should look like from the get go.
Hervé: How important is your dealer network to your success and how can you recruit more?
Our dealer network is probably the most important factor in our growth. We only started dealing with them a little over a year ago and they have all embraced us and helped us tremendously to get off the ground. At this point I think our distribution network is just as good as any other collectible company out there except McFarlane. They're heads and tails above everyone else.
Hervé: Sota has worked on several action figure series for other companies and you guys are now sculpting for third parties and merchandising your own products. Which one is the tougher?
Working for other toy companies is tougher. We're doing less and less of it now. Mostly for long term clients that I have a very personal relationship with.
Hervé: How do you about obtaning a license?
Its not tough to get a license really. You basically submit a proposal with how much money you are offering them and how you would go about making the toys,etc and then they weigh the artistic with the money and make their decision. Ive been lucky in that I have tons of contacts in the film industry to 'put the word in' so to speak. It also helped that we took on Tomb Raider , which was a project every toy company said was a loser, and we turned it into a pretty big hit. Ultimately the license holder wants to pick the company they think will make them the most money. Personally I think if Mcfarlane wants the license they will get it. Everyone else after them is looked on equally.
Hervé: You've obtain a license for Charmed. Although it's right in the traditional Buffy market, can you reach the female fans of the television series? Is that a way for you to penetrate a market that's very profitable and perhaps not taken seriously by most vendors?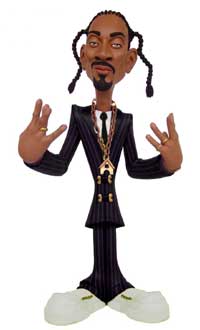 Charmed is very different than Buffy in that the fan base is much more female. With Buffy I would say theres a much greater percentage of male fans. We're doing a 'grassroots' thing with Charmed by being very active on Charmed message boards and beign very accessible to the fans. I would say the average email I get is a 13 yr old girl. Definitely not our normal customer. I think the 12" dolls will sell even better than the action figures.
Hervé: On the Charmed line, you've decided to limit articulation to the upper body. Was there any reason for that?
We discussed it with the "Girls" and Charmed really isn't a high action show and everyone felt the look was more important than the poseability. We could've done the v-hip thing but personally I think its pointless. Unless we were going to go with ball hips I just didn't see any useful articulation.
Hervé: I feel that the Charmed figures are great. There seem to be few female figures for customizers to work with. How do you feel about folks using the Charmed figures for custom figures?
Ive heard that some companies don't like their figures being used for customs but I think its cool someone would think our figures are good enough to use to create something else.
Hervé: The Tomb Raider series was very popular for Sota. Do you plan on re-releasing some of the older hard to get figures?
Unfortunately no…and its mindboggling to me that everyone who wanted a Tomb Raider figure didn't get one because we made a TON of them… I mean we made more of those than we are for Street Fighter, Riddick or Charmed. So if those are rare I can only imagine how rare our new stuff is gonna be.
Hervé: We fans like to complain about the scarcity of some figures and the buying them on the secondary market and auction sites. Do you have any insight or do you feel our pain?
I feel the pain because remember I started collecting back on Spawn series 1 so I know all about scalpers. I've only owned a toy company for a couple years now..lol..and I still have to search for some things. I have found that the internet is the best place to buy your toys now..just pre-order the set of whatever you want and them you don't have to worry.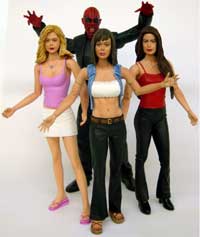 Hervé: The Street Fighters' line is originally Japanese. Some of the most hardcore fans are bound to compare your offerings with something straight from Japan. Do you feel the your line will please those hardcore fans and even Japanese collectors?
Street Fighter is a no win situation. There's so many different styles these characters have been drawn/animated in that everyone has a "look' already predetermined in their heads. My goal was to create what I felt was the ultimate SF line. Best combo of sculpt without sacrificing articulation. Mostly I hear positive comments on the line but I do hear the other voices in the crowd who don't like them. If you try and please everyone you'd doomed to failure. You have to aim and fire and not try and hit everything with one shot.
Hervé: Character selection is the key to this line. What can we expect?
Part of my deal with Capcom going into this is I want to do all of the characters. I don't want to just make the top 10 and call it a day. The only way to do that is to divide the characters into 4 groups of . A, B, C and D. We then take one A , 2 B, one C and one D character for each line. We can still allow voting because I will determine what characters the fans can vote for which keeps my formula intact. But I will NEVER tell which characters are in which category. And I won't say what factors decide which category they fall into.
Hervé: How was it working on the Riddick line?
Incredibly frustrating. So much of the film is created digitally that it was very difficult to get the reference we needed on time. I mean, everyone was extremely helpful but ultimately if a spaceship isn't designed yet .it just isn't designed yet! Yanno? I will say that Vin was really great and easy to work with. As you may or may not know he is a big comic,toy geek…You can talk to him for hours about this stuff..hes a true fan.
Hervé: Can we expect to see some characters from the original Pitch Black movie?
Not this year..but possibly in the future.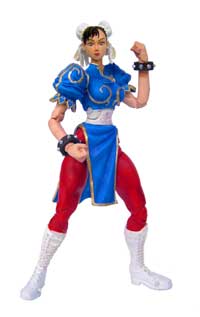 Hervé: Will there be some vehicles too?
The issue with the vehicles goes hand in hand with what I said before about so much being created digitally we couldn't get reference in time. We had originally planned a great line of vehicles with small 1" tall figures..like the old Battlestar Gallactica stuff. Unfortunately they didn't design the ships in time for us to do it so what we've done instead is create collectible resin versions of some of the ships. If the movie is a blockbuster we can always go back and make the vehicles.
Hervé: Last question. What does Sota stands for?
State Of The Art… its not my last name as everyone thinks.
Read related reviews such as:
Last Updated: Jun 26, 2018 - 9:28