Comics / Comic Reviews / More Comics
Samurai Jack #1 Advanced review
By Leroy Douresseaux
October 15, 2013 - 09:34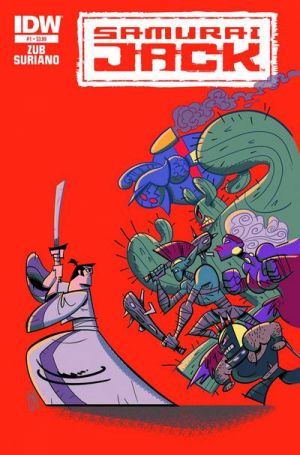 Samurai Jack #1 cover image - Cover A by Andy Suriano
"Samurai Jack and the Threads of Time"
Samurai Jack is an animated series originally broadcast on Cartoon Network from 2001 to 2004 for a total of 52 episodes. This television series tells the story of a legendary samurai, known as "Jack," who is transported to a dystopian, futuristic Earth ruled by the tyrannical, shape-shifting, demonic wizard Aku. Jack wanders this future, trying to find a method by which he can travel back in time to the era in which he belongs, Feudal Japan, where he plans to defeat Aku, another denizen of Japan's past.
Now, Samurai Jack returns as a new five-issue comic book miniseries from IDW Publishing. IDW is partnering with Cartoon Network (CN) to produce original comic books based on CN's animated properties. Written by Jim Zub and drawn by Andy Suriano, Samurai Jack is not merely an adaptation of the series. This comic book IS Samurai Jack.
As Samurai Jack #1 opens, Jack begins his latest quest to find a way back to Feudal Japan. That involves a trip across a storm-swept, insect-infested desert to seek Soule the Seer. From Soule, Jack learns of the Threads of Time. If Jack can obtain these threads, he can rewind the Rope of Eons and therefore, rewind himself home. But to get the first thread, this samurai must become a gladiator.
THE LOWDOWN: Of all the comic books that have debuted this year, Samurai Jack is the purest of them all. It is so free of pretension, yet is still bright and imaginative. It is so true to its source material, the Primetime Emmy-winning, Samurai Jack, that it does not seem like a mere licensed comic book, but rather a genuine continuation of the original story.
There are two things that really stand out about writer Jim Zub's story. First, Zub maintains the sparkling wit and smart humor that marked the television series. Secondly, he gives Jack personality. Thus, the character seems like a… well, a character and not just some corporate intellectual property doing the synergistic thing. Instead, Jack is an approachable dude; sure he can kick some butt, but the character seems approachable.
Artist Andy Suriano, a character designer on the original Samurai Jack cartoon, transforms the graphic sensibilities of the animated series into the graphical storytelling aspects of a comic book. Suriano does not draw everything in painstaking (and painful-to-look-at) detail. The simple shapes and abstract features of cartooning figures, sets, and background details are just as effective at establishing plot, character, and setting as the pseudo-realism of much comic book art. Reading this first issue reminds me of the fun I had watching cartoons. That means Samurai Jack #1 is a success. Zub, Suriano, and IDW do what Cartoon Network's Time-Warner sister, DC Comics, could not do: make a good Samurai Jack comic book.
POSSIBLE AUDIENCE: Readers who want Cartoon Network comic books finally have one in Samurai Jack.
www.jimzub.com
www.IDWPUBLISHING.com
youtube.com/idwpublishing
facebook.com/idwpublishing
Rating: 9 /10
Last Updated: January 24, 2022 - 11:00