Comics / Comic Reviews / More Comics
Samurai Jack #2 comics review
By Leroy Douresseaux
November 25, 2013 - 12:24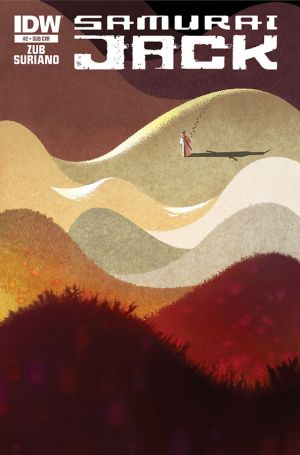 Samurai Jack #2 Subsciption cover by Genny Tartakovsky
"Samurai Jack and the Threads of Time" Part 2
In the former animated series, Samurai Jack (originally broadcast on Cartoon Network from 2001 to 2004), a legendary samurai, known as "Jack," is transported to a dystopian, futuristic Earth. It is ruled by an old enemy of Jack's, a tyrannical, shape-shifting, demonic wizard named Aku. Jack wanders this future, trying to find a method by which he can travel back in time to the era in which he belongs, Feudal Japan, and keep Aku from creating this troubled future.
Samurai Jack returns in a new five-issue comic book miniseries from IDW Publishing. Written by Jim Zub and drawn by Andy Suriano, Samurai Jack is not merely an adaptation of the cartoon. Because it captures the spirit and look of the original, this comic book IS Samurai Jack. This series focuses on Jack's quest to gather the Threads of Time, which he can wind into the Rope of Eons and therefore, rewind himself home. He already has one thread.
As Samurai Jack #2 opens, Jack arrives in a small village where he believes he can find another of the Threads of Time. What he finds is a place full of frightened villagers. He discovers that the problem is the village's so-called protectors, identical twin master martial artists who call themselves "Dis and Dat."
THE LOWDOWN: As he did in the first issue, writer Jim Zub maintains the sparkling wit and sly humor that marked the Emmy-winning Samurai Jack television series. Obviously, I've read a lot of comic books, and I can say that this is one that captures the feelings I got watching a favorite Saturday morning cartoon. Zub is writing a story that is as true to its source material as the best comic book media tie-ins.
Artist Andy Suriano, a character designer on the original Samurai Jack cartoon, gives this comic book art and graphics that pop off the page. With Josh Burcham's colors, the art shimmers and glows, which makes reading the story feel like I'm watching a cartoon.
It's obvious, isn't it? I love this comic book. It's one of the best new series of the year. I hope it turns into a regular series.
POSSIBLE AUDIENCE: Readers who want Cartoon Network comic books finally have one in Samurai Jack.
www.jimzub.com
www.IDWPUBLISHING.com
youtube.com/idwpublishing
facebook.com/idwpublishing
Rating: 9.5 /10
Last Updated: January 24, 2022 - 11:00