Comics / Comic Reviews / More Comics
Ryder on the Storm #2
By Leroy Douresseaux
January 10, 2011 - 14:20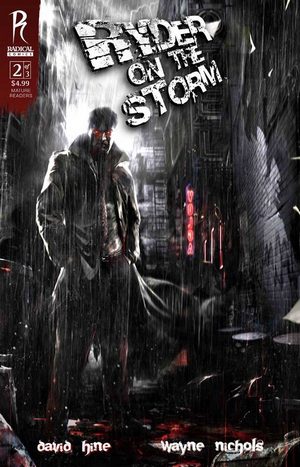 Ryder on the Storm #2 cover image
Ryder on the Storm is a supernatural-detective comic book miniseries from Radical Publishing. Written by David Hine and drawn by Wayne Nichols, the series focuses on Ryder, a private eye hired by mysterious beauty Katrina Petruska to investigate the horrifically bizarre suicide of her lover, Michael Hudson. The crime is apparently tied to the Daemons, an ancient race that once ruled over the entire world.
[SPOILER ALERT: for those who have not read the first issue] As Ryder on the Storm #2 opens, Ryder is still dealing with the fact that he is a Daemon. The last Daemon hunter, Charles Monk, tells Ryder the history of the Daemons (the condensed version, of course). However, there are secrets galore, as Ryder learns about the "Abaddon" and meets Rebecca Danton, who is not only the matriarch of a Daemon clan, the Dantons, but also so much more.
THE LOWDOWN: While I can describe Ryder on the Storm as many things, I can best describe it as good comics. Writer David Hine delivers something that is gritty and edgy with gore, but is also strangely smooth and silky. Hine weaves a good back story and lore for the narrative, but builds intensity and also anticipation for the horror that is coming.
Perhaps, artist Wayne Nichols is the one who provides the smooth. His clean drawing style and crystal clear storytelling reveals all the darkness Hine creates. The colors by Feigan Chong and Sansan Saw of Sixth Creation create the ambience of a storm quietly building – the calm before the sure-to-be-fun ending.
POSSIBLE AUDIENCE: Readers looking for something good and different in urban fantasy will enjoy Ryder on the Storm.
A-
For more of Leroy, please, visit www.negromancer.com.
Last Updated: September 6, 2021 - 08:15