Comics / Comic Reviews / More Comics
Ryder on the Storm #1
By Leroy Douresseaux
October 6, 2010 - 14:17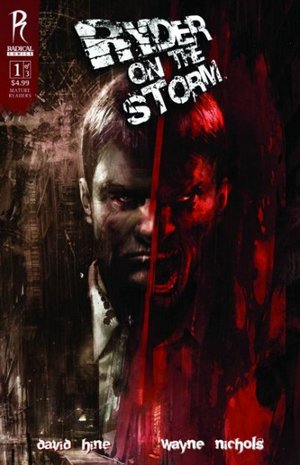 Ryder on the Storm #1 cover image
Written by David Hine and drawn by Wayne Nichols, Ryder on the Storm is a supernatural-detective comic book from Radical Publishing. The series focuses on Ryder, a private eye hired by mysterious beauty Katrina Petruska to investigate the horrifically bizarre suicide of her lover, Michael Hudson. Hudson's death is died to rumors of daemons walking among humanity, but it is the last daemon hunter, Charles Monk, who has the answers – about the daemons and about Ryder himself.
THE LOWDOWN: Radical Publishing released Ryder on the Storm #0, a 16-page preview of the series, which didn't do the full version of Ryder on the Storm #1 justice. The first 16 pages of the story may seem like a riff on John Constantine (of DC Comics' Hellblazer) and Harry Dresden (of the novel franchise written by Jim Butcher). Ryder (who won't reveal his first name) may indeed be somewhere between those two characters, but that doesn't matter.
What matters is that David Hine delivers gritty, horror fantasy that wrestles the readers' expectations to the ground. The story does take a quick turn after a dry start. I find that I don't always know what to expect, and when I do have expectations, Hine gives it to me in a shiny new package – leaking blood, of course.
The story works because of the art by Wayne Nichols, with colors by Feigan Chong and Sansan Saw of Sixth Creation, is simply good storytelling. Nichols is stylish without being flashy in the way Film-Noir cinematography could be so beautiful while presenting the visual in an almost matter-of-fact manner. For instance, Nichols depicts a debauched sequence that works without being gory, while the smoothly painted colors complete the subtle delivery of the bizarre. All in all, Ryder in the Storm promises to be a wild and enjoyably bumpy trip.
POSSIBLE AUDIENCE: Readers looking for good dark fantasy will enjoy Ryder on the Storm.
B+
Last Updated: September 6, 2021 - 08:15