Reborn!: Volume 10
By Leroy Douresseaux
January 5, 2009 - 11:24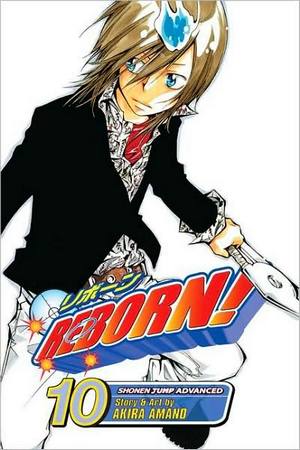 Reborn 10 cover image is courtesy of barnesandnoble.com.
Rated "T+" for "Older Teen"
Tsunayoshi Sawada AKA "Hapless Tsuna" AKA "Loser Tsuna," was just another failure at school, socializing, and sports. Then, the toddler assassin, Reborn, arrives and informs Tsuna that he is destined to be the 10th boss of the Vongola mafia crime family, and Reborn's got the magic bullets to make a mob boss out of Tsuna.
As Reborn!, Vol. 10 opens, the fiery battle between Tsuna and his would-be assassin, Mokuru Rokudo, comes to its explosive conclusion. Tsuna barely has a chance to catch a break. Conscious of the next stage in Tsuna's transformation from loser teen to mafia boss, Reborn encourages the members of Tsuna's inner circle to undergo a serious training regimen to improve their unique battle skills. Meanwhile, even more new figures, some mysterious and others both mysterious and dangerous, enter Tsuna's life, including the return of his father!
THE LOWDOWN: As the narrative slips into a darker mode, Reborn! hasn't minimized its best trait. Creator Akira Amano continues to enlarge her menagerie of delightfully odd characters. Her inventiveness in creating weirdoes assures that Reborn! will always have a comic edge no matter how action-oriented some of the series' storylines may become. While the current storylines is similar in tone to fellow "Shonen Jump" title, Naurto (lots of battles, duels, and explosions), Reborn! is still a crime/comedy, similar in tone to a film like Get Shorty. The dazzling compositions and intricate drawing of manga-ka Amano and her staff are noteworthy. Also of note, this may be the best volume of the series, yet.
POSSIBLE AUDIENCE: It's hard to pinpoint an audience for Reborn! other than to say fans of mob comedies might just go for its weirdness.
A-
Last Updated: May 19, 2020 - 12:25