Reborn!: Volume 12
By Leroy Douresseaux
July 5, 2009 - 14:15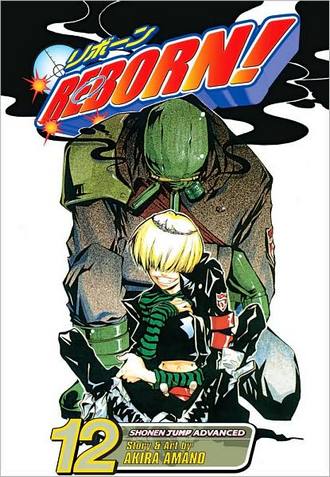 Reborn Volume 12 cover image is courtesy of barnesandnoble.com.
Rated "T+" for "Older Teen"
He was just another failure at school, socializing, and sports, this nerd named Tsunayoshi Sawada, but better known as "Hapless Tsuna" or "Loser Tsuna." Then, the toddler assassin, Reborn, arrived and informed Tsuna that he was destined to be the 10th boss of the Vongola mafia crime family. Reborn's got the magic bullets and maybe a shot at making a mob boss out of Tsuna.
As Reborn!, Vol. 12 (entitled Prince Ripper) opens, the epic clash between Tsuna's "family" and the Varia assassins continues. Each battle pits one of Tsuna's comrades against one of Varia's extraordinarily talented and skilled combatants. To the winner of each round goes the loser's share of the Vongola half-ring. This contest may decide who is the next Vongola boss: the chosen one, Tsuna, or Varia chief, Xanxus. That may be why the members of the Varia are willing to cheat.
THE LOWDOWN: With the Varia war, Reborn! creator Akira Amano has created one long fight comic to rival the greatest superhero battles and surpass most. Sometimes, the 12th volume is like Naruto or Bleach on steroids (or on fast play). The duels in this volume are so enthralling and thrilling that I didn't stop reading until the last page, and I definitely wanted more – much more. Even more amazing than these fights is the exceptional art. Amano and his assistants are able to create dense and textured art full of cross-hatching, meticulous inking, and waves of toning. Unlike quite a bit of shonen manga art, however, the characters and backgrounds aren't lost in the manic action. All that busy art serves the story – a true graphic narrative.
POSSIBLE AUDIENCE: Sometimes it's hard to pinpoint an audience for Reborn!, but volumes like this one are tailored made for shonen fight comic fans.
A-
Last Updated: June 23, 2021 - 00:45