Reborn!: Volume 8
By Leroy Douresseaux
June 27, 2008 - 12:39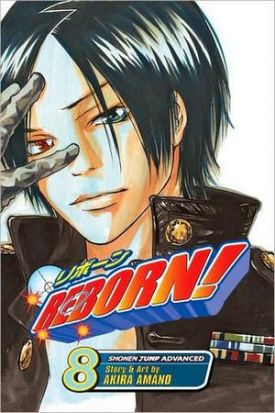 Thanks to barnesandnoble.com for the cover image to Reborn! 8.
Rated "T+" for "Older Teen"
Tsunayoshi Sawada AKA "Hapless Tsuna" AKA "Loser Tsuna," was just another failure at the young manly, high school arts of socializing and sports. Then, toddler assassin, Reborn, comes knocking at the door and informs Tsuna that he is destined to be the 10th boss of the Vongola crime family, and Reborn's got the magic bullets to make a mob boss out of Tsuna.
As Reborn!, Vol. 8 begins, a member of Tsuna's "crime family," the dynamite-tossing Hayato Gokudera, is called back to Italy by the still-reigning 9th boss of the Vongola crime family. Perhaps, Gokudera can stay, if he can get Tsuna to declare that he needs him, but is Tsuna, who is afraid of Gokudera, planning on saying such a thing.
The other nine chapters are devoted to the biggest threat Tsuna and company have ever faced. When the prefects of Namimori Middle School (Tsuna's school) start turning up nearly beaten to a pulp, it signals war, and the culprits are apparently juvenile delinquents from another school, Kuroyo Middle School. It is, however, more than that. Who is Mukuro Rokudo, and why are he and his gang defeating Tsuna's "family," one member at a time?
THE LOWDOWN: In previous volumes, Reborn! has mostly been an episodic or situational comedy. There have been 2-3 chapter mini story arcs, but even those were like sitcom episodes. Manga-ka Akira Amano usually places Tsuna in some kind of dilemma or difficulty and mixes in the eccentricity of his co-stars and then, hilarity and/or bizarreness ensues.
Vol. 8 is the first time that the readers get what amounts to an extended story arc, serial, or even graphic novel. This storyline that finds Tsuna and Co. facing off against the slippery and formidable villain, Mukuro Rokudo, and his gang still retains Reborn!'s unconventional comedy. What we also get this time is a really good fight comic with really strange adversaries – Naruto meets the defunct FOX TV comedy, "Arrested Development."
POSSIBLE AUDIENCE: Of all the titles in VIZ Media's "Shonen Jump Advanced" line of manga, this is probably the most adult-oriented because its irreverent and peculiar nature will likely play above the head of many teen readers, that line's target audience.
A-
Last Updated: September 6, 2021 - 08:15