Queen's Quality: Volume 1 manga review

By Leroy Douresseaux
Sep 7, 2017 - 22:02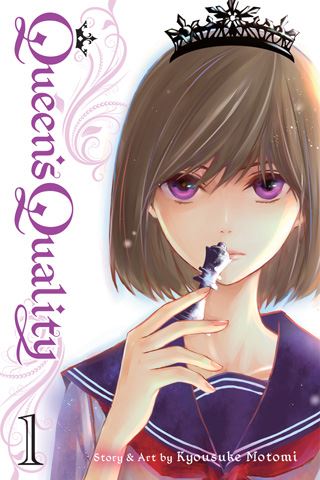 Queen's Quality Volume 1 cover image
Rated "T" for "Teen"
One day,
Kyutaro Horikita
, the cleaning expert of
Kurokado Private High School
, finds a maiden sleeping in an old room on campus. She is transfer student
Fumi Nishioka
, and like Kyutaro, she has a talent for cleaning. However, the tall, dark, and handsome Kyutaro is also a "
Sweeper
," someone who cleans away negative energy from people's heart, and Fumi becomes his apprentice. Now, comes the second part of their story.
As
Queen's Quality

, Vol. 1
(Chapters 1 to 5) begins, Fumi is now part of the
Horikita family
, living with them in the
Horikita mansion
. The family is also part of the
Genbu-Kita Clan
of "Sweepers," and she works with them. Now, a peculiar and odd new man enters her life. He is
Takaya Kitahara
, a psychiatrist and an expert in suggestive therapy.
Kitahara is there to guide Fumi who turns out to be a "
Queen
." Queens are women born with an extremely rare power and can control people's minds. A Queen can force anyone and everyone to do what she wants. Fumi may become a "
Black Queen
," and there are a group of people seeking to turn her into just such a malevolent creature.
THE LOWDOWN:
The Queen's Quality manga is a sequel to the
QQ Sweeper
manga. QQ Sweeper was offbeat, but did not show the darker side of its narrative until the second half of what was a three-volume series.
Queen's Quality Volume 1
is less offbeat and plays more like a high school shojo romance. It does not fully show the dark side of its narrative until the fourth and fifth chapters of this five-chapter opening graphic novel. The dark elements are a thrill to read, and I was disappointed that I had reached the end of the first volume, especially if it was going to give me more darkness.
The parts of the story that deal with romance and with cleaning/sweeping are a mixed bag – sometimes interesting, sometimes not. Creator
Kyousuke Motomi
is at her best when she shows her characters facing and fighting darkness, but she seems (at least to me) determined to offer shojo romance. Well, the fighting-evil parts of the story make it worth putting up with the lovey-dovey parts.
I READS YOU RECOMMENDS:
Fans of Kyousuke Motomi's QQ Sweeper will want to read the Shojo Beat title,
Queen's Quality
.
A-
7.5 out of 10
Rating: 7.5 /10
Support this writer on Patreon
Last Updated: Jun 26, 2018 - 9:28