TOKYOPOP in Color with Pixie Volume 1
By Leroy Douresseaux
March 6, 2009 - 05:40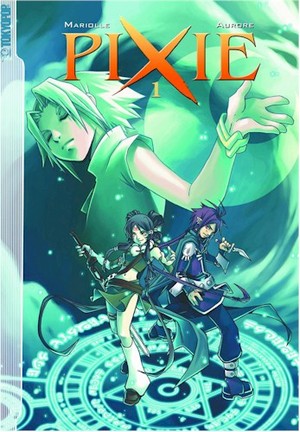 Pixie 1 cover is courtesy of Anime Castle Books.
Action/Fantasy; Rated "T" for "Teen"
TOKYOPOP is expanding outside its base of manga (Japanese comics), manhwa (Korean comics) and OEL manga (original English language manga) by offering English language editions of full-color graphic novels from around the globe and created by an international roster of writers, artists, and writer/artists. Originally published in France by Guy Delcourt Productions, Pixie is a graphic novel series by writer Mathieu Mariolle and artist Aurore (a female comic book artist whose full name is Aurore Demilly). Pixie is a fantasy about a mismatched trio on a quest to stop a conspiracy that threatens several worlds.
TOKYOPOP's publication of Pixie, Vol. 1 compiles the first two original French volumes. The story opens in Daĭmoon Palace, where readers meet the spoiled Prince Ael. Living an isolated life and unable to even attend city festivals, Ael dreams of going on big adventures and being a hero, and his tutor, Diancecht, only further fires the boy's imagination with his storytelling.
When he is kidnapped by a scruffy young thief named Pixie, Ael finally begins that wild journey that takes him far from the confining walls of the palace. Often barely escaping with their lives and constantly bickering at one another, the duo suddenly finds itself in the middle of an awesome conspiracy. Joining Pixie and Ael on their journey are a buxom, young spell-casting warrior named Elvynn and a scary, but wise werewolf named Balor. Together, they will use Ael's awesome power to save not just one world, but many.
Because it bounds from one scene to the next, Pixie seems more like a Hollywood action fantasy film than a graphic novel. Pixie reads like a grab bag of fantasy works, especially works that are inspired by or are derivative of J.R.R. Tolkien. For some reason, Pixie reminds me of Margaret Weis & Tracy Hickman's early 1990s seven-novel series, The Death Gate Cycle (of which I've only read the first two books) because like this "Cycle," Pixie has a lot going on.
It's not that Pixie has too many characters; it's that most, if not all, of the characters have a lot of back story. Writer Mathieu Mariolle could write a separate series that covers just the characters' pasts. It makes Pixie's narrative more complicated than it needs to be. The plot is practically incoherent. What's the point? What's the goal, that common thing for which the characters are working? That just gets lost in this very busy narrative. Also, it turns out that Prince Ael's special ability not only makes it hard for his fellow characters to keep track of matters, but also makes it hard to follow this narrative.
For all the fantasy trappings, Pixie also examines the misuse of technology, which adds a sci-fi element to everything else here. Pixie has potential, but it's likely to be mashed by the weight of a convoluted plot and by the fact that too much of the relevant story actually takes place before the story begins.
B-
Last Updated: January 24, 2022 - 11:00