TOKYOPOP Color Offers Orange by Benjamin
By Leroy Douresseaux
February 24, 2009 - 07:47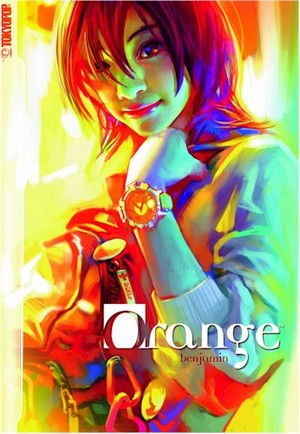 Orange cover image is courtesy of Anime Castle Books.
Drama; Rated "T" for "Teen"
TOKYOPOP has expanded beyond its base of publishing manga (Japanese comics), manhwa (Korean comics) and OEL manga (original English language manga) to offer English language editions of full-color graphic novels from around the globe; these are titles created by an international roster of writers, artists, and writer/artists. Orange was originally published in France by Xiao Pan, a French publisher and distributor of full-color Chinese manhua, both in French-language and original Chinese editions.
Benjamin Zhang Bin a.k.a Benjamin is a manhua (Chinese comic books) artist and also an illustrator who has painted poster art for films and video games. Orange focuses on a high school girl named Orange, who is so disenchanted with her life: callous parents, shallow friends, empty dating relationships, etc. that she decides to commit suicide. Standing on the ledge of a rooftop, Orange is saved by a drunken, enigmatic young man named Dashu. Then, Dashu does something that shocks Orange even more.
THE LOWDOWN: The luscious painted art shimmers, as if something incandescent glows behind each painted panel. If the only the narrative smoldered so, but Orange is frozen. It's not so much a graphic novel as it is an illustrated short story or poem. Basically, Orange's narrative is a recollection of tragic event, as well as a list of grievances by the first person narrator, Orange.
Dashu, Orange' savior, is actually an intriguing character, but between the art and Orange's oblique recounting, he seems always to be in the shadow, even when the narrative is about him. Benjamin even depicts Dashu as a paint-smeared character, which may be a deliberate choice, in order for the author to portray him as mysterious and ethereal. It's a bad choice.
As we don't get to see much of the people in Orange's life, with whom she is exceedingly dissatisfied, we don't have a context in which to judge the validity of Orange's complaints. Without getting to experience these other people, we can choose to believe Orange's story as truth or, to some extent, see her as whiny and perhaps even dishonest. Regardless, what Orange the book offers is lovely art that looks like Impressionists oil paintings and also a disappointing soft story.
POSSIBLE AUDIENCE: Fans of full-color manhua may want to try Orange.
B-
Last Updated: August 31, 2023 - 08:12