Otomen: Volume 17 manga review
By Leroy Douresseaux
January 30, 2014 - 11:33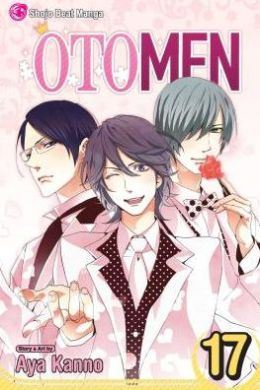 Otomen: Volume 17 cover image is courtesy of barnesandnoble.com.
Rated "T" for "Teen"
Asuka Masamune is an otomen. What is an "otomen?" It is a guy with a "girlish heart," who likes cute things and also tasks and hobbies generally associated with women. Asuka Masamune, however, lives in a world that insists that males act manly. He plunges himself into the role of a masculine jock and is captain of the Ginyuri Academy High School kendo team, but hides his beloved hobbies, such as sewing, making cute stuffed animals, cooking, and reading shojo manga. Asuka is drawn to Ryo Miyakozuka, a girl who can't sew, bake a cake, or even make a decent bento box. Can Asuka be true to himself with Ryo?
Asuka's mother, Kiyomi Masamune, has discovered his secret, and she is furious that her son is an otomen. As Otomen, Vol. 17 begins, Kiyomi begins her quest to change Asuka. She blames shojo manga, his friends, and Ryo for Asuka being an otomen.
She buys Kokusensha, the publisher of Asuka's favorite shojo manga, "Love Chick." Her first move is to force Love Chick's creator, Jewel Sachihana (the pen name of Asuka's friend, Juta Tachibana), to end the series. The next targets are Asuka's friends, and that includes Ryo. Will Asuka succumb to his mother's anti-otomen agenda? How does Tetsuta Ishibashi of Hinode TV fit into these schemes?
THE LOWDOWN: If I understand correctly, the Otomen manga is coming to an end, which is a shame. Otomen Volume 17 is the second-to-last (penultimate) volume, and it is the best volume yet.
Creator Aya Kanno is hitting her stride with these stories of romance that also depict teen struggles, such as gender roles, rivalries, and social obligations. What makes Vol. 17 so fascinating are new subplots and themes. The trauma of divorce, both on parents and children, becomes a dominant theme, and will likely be one of the themes upon which the end of this series hinges. The gender identity and sexual orientation of an adult also play a part. I almost can't wait for the next volume.
POSSIBLE AUDIENCE: Teen readers looking for manga with something substantial to say to them will want the Shojo Beat title, Otomen.
Rating: A /10
Last Updated: May 19, 2020 - 12:25