Otomen: Volume 15 manga review
By Leroy Douresseaux
May 12, 2013 - 16:01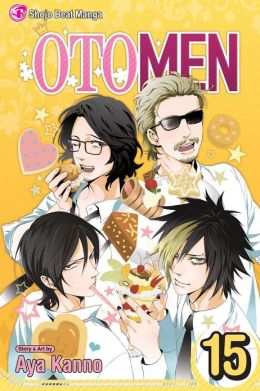 Otomen Volume 15 cover image is courtesy of barnesandnoble.com.
Rated "T" for "Teen"
An "otomen" is a guy with a "girlish heart." An otomen likes cute things and also tasks and hobbies generally associated with women. Asuka Masamune is an otomen, but lives in a world that insists that males act manly. He plunges himself into the role of a masculine jock and is captain of the Ginyuri Academy High School kendo team, but hides his beloved hobbies, such as sewing, making cute stuffed animals, cooking, and reading shojo manga. Asuka is drawn to Ryo Miyakozuka, a girl who can't sew, bake a cake, or even make a decent bento box. Can Asuka be true to himself with Ryo?
In Otomen, Vol. 15, two supporting characters take center stage. First, is Hajime Tonomine, who is the captain of the Kinbara High School kendo team. Hajime wants to be the best at kendo, so he has challenged Asuka, who has previously beaten him, to a match in order to determine who is best. Hajime is an otomen who is good with cosmetics, and he would like to seek a career in cosmetics.
However, Osamu Tonomine, Hajime's father, is a member of the Daicharenji City Council, and he would like his only son to follow him into politics. A wedding dress fashion show for Tanzan Bridal is where Tonomine's fate is decided… or where Tonomine decides his fate.
Next up is Yamato Ariake, who looks like a cute girl. He is a "delusional otomen" who admires manliness. A trip to the beach and a summer festival with Asuka and friends give Yamato a chance to bond with Ryo – with surprising results. However, the appearance of a childhood acquaintance named Oka brings back memories of Yamato's old nickname, Yamako, and those irritating questions about his identity.
THE LOWDOWN: The Otomen manga still doesn't seem like the same manga that I first read a few years ago. Since reading Vol. 10 a few months ago, I have come to really like Otomen. In some ways, it reads like a typical high school shojo romance manga of the Shojo Beat variety, but does so with a way that makes a sharp distinction from other shojo high school manga.
Creator Aya Kanno builds Otomen's stories of romance and teen conflict on issues of gender roles and, to a slightly lesser extent, on gender roles and the perceptions and expectations that come along with identity and role-playing. It is not that the characters are trying to discover who and what they are so much as it is about them finding a way to integrate into a larger society while doing what they want or what their hearts desire.
Otomen Volume 15 puts a laser focus on that, and that makes for good reading. I could have read a third arc in this volume, starring another supporting character, and I eagerly await the next volume.
POSSIBLE AUDIENCE: Teen readers looking for manga with something familiar to say to them will want the Shojo Beat title, Otomen.
Rating: A /10
Last Updated: August 31, 2023 - 08:12