Otomen: Volume 14 manga review
By Leroy Douresseaux
Feb 22, 2013 - 16:26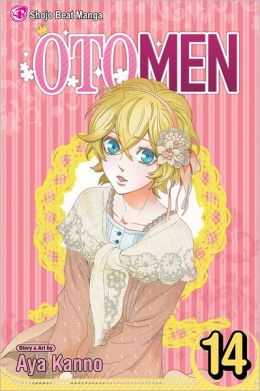 Otomen Volume 14 cover image is courtesy of barnesandnoble.com.
Rated "T" for "Teen"
An "otomen" is a guy with a "girlish heart." He likes cute things and doing tasks and hobbies generally associated with women. Asuka Masamune is an otomen. He lives in a world that insists that males act manly, so he plunges himself into the role of a masculine jock and is captain of the Ginyuri Academy High School kendo team. Asuka hides his beloved hobbies, such as sewing, making cute stuffed animals, cooking, and reading shojo manga. Asuka is drawn to Ryo Miyakozuka, a girl who can't sew, bake a cake, or even make a decent bento box. Can Asuka be real with Ryo?
Otomen, Vol. 14 begins with the story of Kitora Kurokawa, Asuka's friend and a fellow otomen. Kitora is obsessed with flowers. He's just won four tickets for a six-day tour of Pukkanabona, the home of the legendary flower, the Delamezla. Asuka and Ryo take one pair of tickets, but fate forces Kitora to pair up with Yamato Ariake, another otomen, who looks like a cute girl and who admires manliness. The trip does not turn out to be what they expect, but Kitora is determined to make a discovery.
Later, Asuka has a big kendo match coming up. His opponent is Hajime Tonomine, the captain of the Kinbara High School kendo team. This is Tonomine's last chance to face off against Asuka, and he is determined to beat his rival. Tonomine also wants this to be his last kendo match. Tonomine is an otomen; he likes cosmetics and he's ready to focus on that. But is his father ready for that?
Meanwhile, Asuka is having problems of his own. An old friend, Kasuga Masamune, is back in his life. Kasuga wants to meet the shojo manga artist, Jewel Sachihana, who is really the alter-ego of Juta Tachibana. Asuka once pretended to be Jewel, and he may have to do so, again – at the risk of further damage to his friendship with Kasuga.
THE LOWDOWN: The last volume of the Otomen manga that I read was Vol. 10. Four volumes later, it doesn't seem like the same manga that I remember. It was edgier the last time I read it, now, it reads like a typical high school shojo romance manga of the Shojo Beat variety. Even having so many male characters who love to do some of the things that are considered feminine does not make Otomen exceptionally unusual.
What makes it stand out is the execution of the plots and character drama. Creator Aya Kanno, at least as far as Otomen Volume 14 is concerned, offers a story that flows like a stream, with only a rare bump or rapid. Previously, I found this series to be an edgy high school comedy. This time around, it is sweet and familiar, and I wish I had another volume just like this one in front of me.
POSSIBLE AUDIENCE: Teen readers looking for high school shojo that looks different, but is also familiar will like the Shojo Beat title, Otomen.
Rating: A /10
Last Updated: Dec 19, 2017 - 22:52