Otomen: Volume 10
By Leroy Douresseaux
May 22, 2011 - 15:35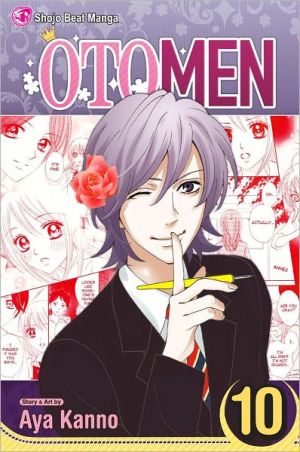 Otomen Volume 10 cover image is courtesy of barnesandnoble.com.
Rated "T" for "Teen"
Asuka Masamune lives in a world that insists that males act manly, so he hides his beloved hobbies and plunges himself into the role of a masculine jock. Asuka is an otomen – a guy who loves girly things. He carries a sewing kit, knits, makes cute stuffed animals, cooks, and he absolutely loves reading shojo manga. Asuka is drawn to Ryo Miyakozuka, a girl who can't sew, bake a cake, or even make a decent bento box. Can Asuka show Ryo his true side?
In Otomen, Vol. 10, Maki Kibino, a chemistry teacher at Ginyuri Academy High School, creates a potion that makes all the guys act manly and all the girls act feminine, even Asuka and Ryo. Only Kurokawa, a flower-loving boy, who because of chance or fate, remains unchanged; now, begins his struggle to return his classmates to their original personalities.
Kibino is not the only Ginyuri Academy faculty trying to change the students. Mifune Naito takes his students on a field trip to Yoshino No Sato, an Edo theme park where boys will learn to become samurai and girls housewives. Soon, Asuka finds himself in a battle of samurai-trainees with male students from Kinbara High School, who are also at Yoshino to learn to be men.
THE LOWDOWN: While Otomen is a shojo manga high school romance, creator Aya Kanno builds drama and conflict out of gender, gender roles, and people's expectations of gender and what it means to be masculine or feminine. That gets a little repetitive in this volume, but generally, it makes for good reading. Anyone who has ever navigated the teenaged or high school political landscape, especially concerning gender and roles, will recognize the drama in this edgy high school comedy.
POSSIBLE AUDIENCE: Teen readers looking for high school fiction with some bite will like Otomen, and so will older readers.
B+
Last Updated: August 31, 2023 - 08:12